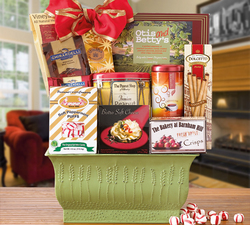 Our goal is to offer personal gift baskets that show what 'thank you' is all about
Long Beach, CA (PRWEB) October 21, 2009
For all those times when the words 'thank you' don't live up to one's true appreciation, Van's Gift has a selection of gift baskets that send the right message, at the right time and for the right price.
Van's Gifts, Inc., a leader in the gift basket industry, offers those who want to say something more than 'thank you,' a unique yet elegant gift basket solutions that add value and meaning to their message.
Each Van's Gifts gift baskets is a testament to quality and value, which is why Van's Gifts offers unique, fully-packed gift baskets complete with an assortment of gourmet edibles, wines and accessories starting at $19.95. Baskets are available in sizes and styles that cater to cheese lovers, wine lovers, coffee lovers and anyone else who needs to receive a message of thank.
"Our goal is to offer personal gift baskets that show what 'thank you' is all about," said Reva Colover, President of Van's Gifts. "Whether you need to thank two people, or twenty-two people, we have a gift basket to set the tone."
When one says 'thank you' with a Van's Gifts gift baskets, the thanks will live on as each gift comes with a signature keepsake that sets the foundation for the basket. Whether it's a stylish leather wine tote or a hand-crafted wooden trunk, Van's Gifts is known worldwide for its selection of value-added 'gifts after the gift.'
Van's Gifts continues to prove its commitment to value and quality by offering gift baskets that are right for any 'thank you' and any budget. And with a variety of shipping options, appreciation can be shown when it needs to be. All baskets can be purchased online at vansgifts.com or by calling 1-800-822-7538.
About Van's Gifts:
For over 25 years, Van's Gifts has been known as a leader in high-quality, tailor-made gift baskets. The company offers a large selection of gift baskets perfect for giving during the holidays or any other special occasion. Wholesale orders are taken throughout the year, and Van's Gifts distributes national gift programs for some of the top U.S. retailers. For more information call 1-800-822-7538 or visit vansgifts.com.
###