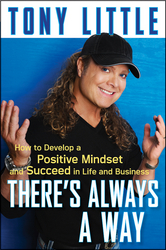 There's Always a Way
Hoboken, NJ (PRWEB) October 21, 2009
John Wiley & Sons, Inc. (NYSE:JWa) (NYSE:JWb), today announced the pending publication of "There's Always a Way," a new motivational business book from Tony Little.
Famed fitness guru, Tony Little, renowned throughout the world for his trademark ponytail and shouts of "You can do it!" is tackling the literary world with the same high energy and enthusiasm with which he approaches everything else in his life. The man popularly known as "America's Personal Trainer" is one of the most financially successful figures ever to appear on television, selling over $3 billion worth of products worldwide. In his new book publishing December 2009, Tony Little reveals his very own rags-to-riches story -- and of how he has used the hard knocks of his own life to develop unique selling strategies, become a successful businessman and a better human being.
After battling his way up from poverty and juvenile delinquency, Tony is living proof that no matter what obstacles you're facing, and no matter what you crave the most, there is always a way to achieve it. "There's Always a Way" contains practical advice culled from Tony's often wild and improbable experiences, which will help readers navigate the tough business world, as well as live a quality life.
Tony recounts his personal life story, from teenage runs-ins with the law that resulted in his mother shipping him off from their home in Ohio to live with an uncle in Florida, to finding success as a body builder, only to be derailed by a near fatal car accident - then another. The trauma and its aftermath resulted in four facial surgeries, more than 200 stitches, two herniated discs, a torn rotator cuff, a dislocated knee, an addiction to pain killers and a weight gain of more than 50 pounds. But from the ruins of his broken body came an unrelenting desire to change his life. What ensued was the creation of a fitness empire and tremendous success created from a combination of determination and a willingness to take risks.
Using the backdrop of his own, at times, bizarre experiences to illustrate a roadmap to success, Tony explains how to use fears and insecurities to sharpen one's selling game and provides secrets for overcoming negativity, thinking out of the box, creating a buzz, exploiting humor, making the customer into a star, and achieving peak selling performance. A definite read during these challenging times, "There's Always a Way" is an inspirational and motivational book that demonstrates how to change your mindset and achieve your professional and personal goals.
Tony Little has been a television fitness icon for more than 20 years. He first burst onto the fitness scene in 1983 by becoming an acclaimed Junior National Bodybuilding Champion, turning into a household name after he introduced the Gazelle Exercise Machine into the home fitness market. Known for his uplifting hyperactive personality, Tony is responsible for revolutionizing direct response marketing and television home shopping. More than 40 million people own goods bearing the Tony Little name, including his signature Gazelle trainer. Moreover, his success crosses international boundaries, with his infomercials currently airing in 81 countries. Today, through his company, Health International Corporation, Tony's influence can be felt throughout the infomercial business, which as an industry garners over $100 billion a year. Tony was inducted into the Fitness Hall of Fame in 2006.
About Wiley
Founded in 1807, John Wiley & Sons, Inc. has been a valued source of information and understanding for more than 200 years, helping people around the world meet their needs and fulfill their aspirations. Since 1901, Wiley and its acquired companies have published the works of more than 350 Nobel laureates in all categories: Literature, Economics, Physiology or Medicine, Physics, Chemistry, and Peace.
Our core businesses publish scientific, technical, medical, and scholarly journals, encyclopedias, books, and online products and services; professional/trade books, subscription products, training materials, and online applications and websites; and educational materials for undergraduate and graduate students and lifelong learners. Wiley's global headquarters are located in Hoboken, New Jersey, with operations in the U.S., Europe, Asia, Canada, and Australia. The Company's Web site can be accessed at http://www.wiley.com. The Company is listed on the New York Stock Exchange under the symbols JWa and JWb.
###