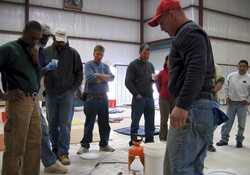 I think this is the best business opportunity available for the person who is looking to earn a credible income to support their family in these trying economic times
Atlanta, GA (PRWEB) October 22, 2009
Concrete Coatings of Georgia will be presenting their Contractor Training Seminar at the Concrete Coatings of Georgia facility near Atlanta, GA, November 6. Consistent with Concrete Coatings of Georgia's firm belief in "hands-on" training, the training will be completed in the warehouse by participants. Because the training will be "hands-on" those who will be attending should wear clothes appropriate to concrete work. Lunch will be provided by Concrete Coatings of Georgia for attendees of the Training Seminar. For those coming in from out of town the recommended hotel is centrally located near a large variety of restaurants and other attractions to fill any downtime attendees may have.
CONCRETE COATINGS of Georgia training course is $100 for one person. Each additional individual will be $100 per person. However, Concrete Coatings of Georgia refunds the $100 training fee in the first order of $1000 or more. To secure training spot(s), attendees will be required to fill out the form that can be found at: Sign-up and mail it to the address on the web site or fax it to 678-388-9699. Classes are limited to a maximum of 15 people. Concrete Coatings of Georgia strongly urges interested parties to send in the confirmation along with payment as soon as possible. Classes tend to fill up quickly.
Concrete Coatings of Georgia will email a confirmation letter and pertinent information for the class. Further information is available and questions may be answered by calling Concrete Coatings of Georgia at 1-770-426-1199.
If you're not afraid of a little hard work, an opportunity to make money through concrete coatings might be in your future.
With the help of Tim Tuohy, the founder of Concrete Coatings of Georgia, many contractors have been able to find the materials they need to perform the job and the training required to do it. Training sessions are currently held once per month with some individualized training opportunities available. For the serious professional, they can also help you become a certified contractor.
Concrete Coatings of Georgia performs regularly scheduled trainings on one to two product systems. These are typically tailored to the season. For example in January, February, and March trainings covered stains, epoxies, and trowel down overlayments. These are systems that can be installed indoors and on sunny days in winter months. All summer trainings were offered on Spray-Tek, stain, and wood deck refinishing materials.
"I think this is the best business opportunity available for the person who is looking to earn a credible income to support their family in these trying economic times," said Tim Tuohy, owner of Concrete Coatings of Georgia. "I'm very pleased that we can help open the doors of opportunity by offering training, support, and certification to contractors and start-ups."
Concrete Coatings of Georgia is a full service Concrete Coating Supply company.
###