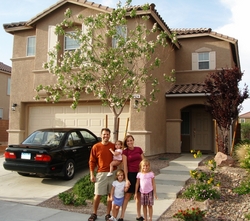 We're going to go right to the bank.
Colorado Springs, CO (Vocus) October 21, 2009
The Sacramento District of the U.S. Army Corps of Engineers (USACE) has issued the nation's first check under the new Homeowners Assistance Program (HAP), as expanded by the American Recovery and Reinvestment Act (ARRA) of 2009.
The check was in U.S. Air Force Maj. John Orchard Jr.'s Colorado Springs, Colo., mailbox exactly two weeks after funds became available on Sept. 30.
"We're thrilled," Orchard said. "We're going to go right to the bank."
Orchard and his family were reassigned to the U.S. Air Force Academy from Nellis Air Force Base near Las Vegas, Nev. The housing market in the area had suffered a considerable decline during the economic downturn, forcing the sale of their home at a loss. "It's been a roller coaster," he said. "Selling a home at a loss, we eventually had to dip into savings. This (HAP claim) puts us back on the map towards retirement and college savings. It's a great gift from our country to our servicemen and servicewomen."
HAP is a Department of Defense (DoD) program approved by Congress in 1966, originally aimed at providing aid to military families and civilian personnel affected by Base Realignment and Closure (BRAC). ARRA, Public Law 111-5, expanded HAP to partially reimburse eligible military personnel, surviving spouses, and federal civilian employees whose service to the nation has required them to relocate and sell their primary residence at a loss.
USACE operates the program for DoD through three field offices, the Savannah, Ft. Worth, and Sacramento Districts. These field offices evaluate applications to determine eligibility and benefit award.
"Like many Americans, DoD families feel the economic downturn's impact as they also cope with the unique challenges of military life. They often don't get to choose when they move and may be forced to sell their homes when they don't want to. Often, service members are ordered to change duty stations and establish new homes sometimes every two to three years," said Ilse Merryman, USACE HAP Program Manager.
ARRA funding allows the DoD to temporarily expand HAP to partially reimburse losses from the sale of a primary residence in the following priority order:
1. Homeowners wounded, injured, or ill in the line of duty while deployed since Sept. 11, 2001, and relocating in furtherance of medical treatment;
2. Surviving spouse homeowners relocating within two years after the death of their spouse;
3. Homeowners affected by the 2005 BRAC round, without the need (which existed under previous law) to prove that a base closure announcement caused a local housing market decline; and
4. Service member homeowners receiving orders dated on or after Feb. 1, 2006 through Sept. 30, 2012 for a permanent change of station (PCS) move, based on the availability of funds.
Each of these general categories has more specific eligibility requirements which have been updated at the DoD HAP web site (http://hap.usace.army.mil).
###