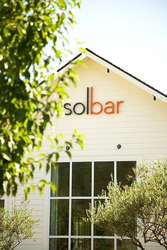 Headed by our talented Executive Chef Brandon Sharp, the restaurant team at Solbar constantly strives to create a memorable and impeccable culinary experience for our guests, and this important tribute is an acknowledgement of our efforts.
Mill Valley, Calif. (PRWEB) October 21, 2009
Auberge Resorts, creators of Solage Hotels & Resorts, is proud to announce that Solbar, the signature Napa restaurant at Napa Valley's celebrated new Napa resort, Solage Calistoga, has been honored with one star by the new Michelin Guide San Francisco, Bay Area & Wine Country 2010. Internationally recognized as a highly respected culinary accolade, Solbar's award makes it one of only 39 Bay Area restaurants recognized with star ratings.
"We are honored to be recognized so highly by the esteemed panel of the Michelin Guide," said Mark Harmon, CEO of Auberge Resorts. "Headed by our talented Executive Chef Brandon Sharp, the restaurant team at Solbar constantly strives to create a memorable and impeccable culinary experience for our guests, and this important tribute is an acknowledgement of our efforts."
To evaluate restaurants included in the influential guide, highly trained Michelin inspectors anonymously visit each establishment and provide objective assessments. Restaurants that are awarded stars are judged on five criteria: the quality of products used, the mastering of flavors and cooking, the "personality" of the cuisine, and the value and the consistency of dishes prepared. Michelin stars are awarded to restaurants offering the finest cooking, regardless of cuisine style. Stars represent only what is on the plate and do not take into consideration interior decoration, service quality or table settings. Solbar's one-star ranking reflects the Michelin team's confidence in the restaurant as a venue that offers cuisine prepared to a consistently high standard.
The 125-seat Solbar offers a new interpretation of wine country cuisine in a decidedly relaxed environment, with special emphasis on the restaurant's indoor-outdoor setting. Leading Solbar's culinary team is Executive Chef Brandon Sharp, whose pedigree includes tenures at Michelin-starred Gary Danko in San Francisco, Restaurant August in New Orleans and the world-renowned French Laundry in Napa Valley.
Sharp offers a dichotomous menu of healthy cuisine, side by side with more indulgent fare, all under the banner of what he terms "California Soul Food," featuring authentic California cuisine with influences from around the world. His menu also reflects his commitment to sourcing ingredients locally and organically and highlighting the seasonal variety of Napa Valley's bounty.
Signature small bites include Freshly Baked Sea Salt Flatbread with Romesco Sauce, Salsa Verde and Babaganouosh; Herb Roasted Chicken Soup with Handmade Gnocchi, Black Pepper and Young Autumn Vegetables; Pasilla Chile Rubbed Pork Cheek Tacos with Lime and Crème Fraiche; and the real crowd pleaser, the Lucky Pig, a shared dish featuring a Slow-Roasted Shoulder of Long and Bailey Duroc Pork with Black Sesame Crepes, Pickled Pineapple, Mongolian Peanuts, Lettuce cups and more.
Signature main courses include: such as Preserved Lemon and Chickpea Stew with Lacinato Kale, Roasted Garlic, Tomato Confit, Harissa and Mission Variety Extra Virgin Olive Oil; Pan-Seared Pacific Halibut with Carnaroli Rice Pilaf, Comice Pears, Clamshell Mushrooms and Fresh Herbs; and Painted Hills Ranch Beef Shortribs with Cremy Anson Mills Polenta, Escarole, Gremolata and Red Wine Jus.
An innovative and comprehensive beverage list offers the perfect pairing of food and wine at Solbar, including a carefully-selected wine list featuring many of the resort's exclusive Napa Valley-based Vintner Members, as well a selection of signature hand-crafted cocktails using fresh and local herbs and spices for Solbar's onsite herb garden.
Renowned Napa Valley architect Howard Backen was the driving force behind the design of Solbar, with interiors designed by San Francisco-based Dowling Kimm Studios. Together, they created a social setting that redefines what one would expect to find in wine country. Lofty ceilings, large sliding glass doors that open to panoramic views of the Palisades Mountains, and a warm color palette inspired by the local landscape, give Solbar an atmosphere of contemporary, casual sophistication. The 125-seat restaurant features earth-friendly interiors including tabletops made from reclaimed Douglas fir, sustainable wool and leather upholstered lounge furniture, and low-impact paint. The restaurant and lounge flows onto an outdoor patio offering al fresco drinks and dinner in the glow of a 20-foot fire pit.
Solbar is located at Solage Calistoga, an 89-room design-focused, environmentally focused resort featuring the award-winning Spa Solage, a full-service spa offering treatments with a playful twist on Calistoga's historic mud bath tradition. The resort was designed to interpret the valley's rural heritage in a fresh style described as "Napa Barn meets San Francisco loft." The resort's spacious rooms and suites - known as "studios" - feature open floor plans, warm color palates, stone showers with pebble flooring and contemporary furnishings. Perfect for couples, families, or groups, Solage Calistoga is a stylish yet welcoming destination.
Solbar is open daily for breakfast, lunch, and dinner. For more information or to make a reservation, please call 866-942-7442 or visit http://www.solagecalistoga.com. The address is 755 Silverado Trail, Calistoga, Calif.
About Auberge Resorts
Auberge Resorts is a collection of exceptional hotels, resorts and private clubs, each with a unique personality that assures a memorable guest experience. Among the distinctive properties are Auberge du Soleil, Napa Valley; Esperanza, Cabo San Lucas; Calistoga Ranch, Napa Valley; The Inn at Palmetto Bluff, South Carolina; Encantado, Santa Fe; Rancho Valencia Resort and Spa, Rancho Santa Fe, Calif. and Pond Bay opening in 2010 on the island of St. John in the U.S. Virgin Islands, with several others currently in development. While Auberge Resorts nurtures the individuality of each establishment, all are characterized by a set of communal elements: intimate, understated elegance; captivating locations that inspire exceptional cuisine and spa experiences; and gracious yet unobtrusive service. For more information about Auberge Resorts, please visit http://www.aubergeresorts.com.
About Solage Hotels & Resorts
Solage Hotels & Resorts is a new brand from Auberge Resorts, the award-winning creators of Auberge du Soleil, Esperanza, Calistoga Ranch and The Inn at Palmetto Bluff. Solage offers contemporary, design-focused properties that are stylish yet welcoming, creative dining and bar destinations and inviting social spaces with a fresh attitude. Taking an energetic approach to wellness, Solage puts a creative spin on traditional spa concepts and offers extensive fitness programs. Solage proves that luxury can be compatible with sustainability by incorporating environmentally sensitive design and green practices at every property. The brand debuted in 2007 with the opening of its first resort, Solage Calistoga, in Napa Valley. For more information about Solage Hotels & Resorts, please visit http://www.solagehotels.com.
###