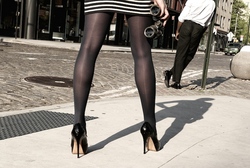 by stringing together 1,105 photos from a photo shoot, my intention was to show my entire process of photographing, directing models, storytelling and incorporating video into my work and business strategy
New York, NY (PRWEB) October 22, 2009
New York Photographer Robert Hooman's self-promotional multi-media piece "Lurking," an uncut sequence of 1,105 chronological and unedited still shots, won a 25th Annual Photo District News (PDN) Self-Promo Award. In the very competitive and crowded field of photography, it is increasingly difficult to grab the attention of photo editors, art directors and creative directors. Each year, the PDN Self-Promo Award recognizes the unique instances in which the photographer and brand make a lasting impact on the marketplace and break the monotony with their creative approach to promoting themselves.
"In creating "Lurking" by stringing together 1,105 photos from a photo shoot, my intention was to show my entire process of photographing, directing models, storytelling and incorporating video into my work and business strategy," explains Robert Hooman. "It is such an honor to win this PDN Self-Promo Award in the beginning of my career as these awards are traditionally won by very seasoned and experienced photographers and organizations."
Photo District News will honor Robert Hooman and the other award winners at the PDN PhotoPlus Expo "Bash" on October 22 in the famous Hammerstein Ballroom in New York. The issue honoring the award winners is on stands now.
In his first complete year as a professional editorial, lifestyle, and commercial advertising photographer, Hooman has worked with top art directors and photo editors and won multiple awards and recognitions for his photography. A collection of Hooman's work can be viewed at http://www.roberthooman.com and "Lurking" can be viewed on Hooman's blog at http://blog.roberthooman.com/2009/10/25th-annual-pdn-self-promotion-award.html
Robert Hooman graduated from NYU in 2000 with a BFA in Film/TV Production and spent the following eight years editing film for industry heavy hitters such as Saatchi + Saatchi and BBDO worldwide for brands including Grey Goose, L'Oréal and Visa. After working in commercial advertising and broadcast television, the New York-based documentary and editorial photographer made the leap into full-time photography with his first solo show at RIOT Manhattan in 2008. This year in Hooman's first complete year as a professional photographer he was awarded a third place prize and five honorable mentions at the prestigious Lucie Foundation's International Photography Awards, a merit award by the Advertising Photographers of America (APA), nine IPPA awards, and a place in the 11th Annual Painting, Drawing, Photography & Print Juried Online International Art Exhibition. He is currently a finalist for the 2009 Pix Digital Imaging Award. Clients have included National Grid, Right Gin, Belvedere vodka, CWRU, Black Star, The Box NYC, Wilhelmina Models, Kelliher Samets & Volk, NY Post, Schmap Guides and Altmar Brands.
###