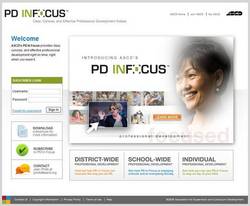 Associations and publishers are facing the twofold challenge of how to better serve their members, and how to better market and monetize their precious information and resources
Washington, DC (Vocus) October 22, 2009
If improving the knowledge and learning of students around the world hinges on the skills and abilities of today's educators, then an award-winning online professional development tool built for international education leadership organization ASCD may help usher in a new era of educational excellence.
"PD In Focus™" is a Web-based multimedia system developed by digital agency Q-Industries to help ASCD deliver interactive, on-demand professional development to its global members, which include 175,000 principals, teachers, superintendents and professors of education in 119 countries. Named a winner in the Teacher Tools category of the ComputED Gazette's Education Software Review Awards (EDDIEs), PD In Focus was cited as "a unique technology tool for expanding professional development, and we highly recommend it."
ASCD came to Q searching for a new way to offer its trove of professional development resources via the Web. "The business challenge was that our target audience had been changing over these past several years," said Linda Scraper, director of online product development for ASCD. "Educators were looking for real-time professional development in small increments and we needed new approaches to reach them."
Q designed and built PD In Focus as a commercial-grade content-delivery platform, providing teachers of all levels and subject matters with an interactive library packed with educational content, research and classroom practices. Organized into "Channels" of major areas of instruction, PD In Focus gives professional educators the ability to search and access very specific segments of multimedia and streaming video of actual children-teacher classroom episodes, interviews with renowned education experts, informative Q&As and more.
"Q had both the creative front-end talent and rich development resources to bring this product to life," said Michael Berkeley, assistant executive director of information technology solutions for ASCD. "We were able to fully outsource PD In Focus, yet have it architected within our (Microsoft .NET) environment for a very successful project."
Developed as "software as a service" (SaaS), PD In Focus was integrated with ASCD's existing single sign-on system to accommodate subscribers, eliminating the need to build a separate authentication system.
"Associations and publishers are facing the twofold challenge of how to better serve their members, and how to better market and monetize their precious information and resources," said Brad Heidemann, Vice President of Client Services for Q-Industries. "ASCD is a model of how a progressive organization can repackage their intellectual property as a new product or service and distribute it to international audiences using Web technology."
Launched earlier this year, PD In Focus has twice been named a "Go-To Site" by Education Week's Digital Directions magazine since March. ASCD released an upgraded version of the application at the end of August, and over the next year will be adding more content and resources.
About Q-Industries:
Q-Industries is a digital marketing agency that designs and builds online brands, websites and advanced Internet-based applications. From helping launch start-ups employing Web 2.0 technologies to advancing the capabilities of Fortune 500 websites, Q-Industries clients span commercial, government and association/nonprofit organizations across the U.S. Since its founding in 1999, Q-Industries has distinguished itself with a full-service model that combines award-winning creative design, dynamic sales and marketing initiatives, and a specialization in flexible, robust and secure technical solutions. Visit http://www.q-industries.com for more information.
About ASCD:
Founded in 1943, ASCD (formerly the Association for Supervision and Curriculum Development) is an educational leadership organization dedicated to advancing best practices and policies for the success of each learner. Its 175,000 members in 119 countries are professional educators from all levels and subject areas - superintendents, supervisors, principals, teachers, professors of education, and school board members. Visit http://www.ascd.org and http://pdinfocus.ascd.org for more information.
Media Contact:
Joel Greenberg
DCPR
(202) 363-1065 | 202-669-3639 cell
joel(at)dcpr.com
Barbara Michelman
ASCD
(703) 575-5764
bmichelman(at)ascd.org
###