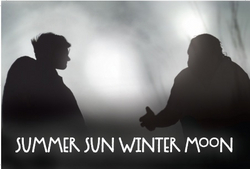 Summer Sun Winter Moon shreds the pages of textbook history.
New York, NY (PRWEB) October 21, 2009
A large-scale social for press will be held to announce the nationwide broadcast premiere of acclaimed documentary film Summer Sun Winter Moon on PBS. The unprecedented media event will provide intimate access to the film's principals: classical music composer and Lincoln Center artist Rob Kapilow, Executive Producer Cynthia Newport, and Director Hugo Perez. The early evening affair will feature a Q & A for press and breakaway sessions for interviews and photo ops, while a high-tech media hub will be available for live video feeds and streaming video interviews for real-time reporting to social media outlets.
According to Ken Lingad, a recognized authority on Native American Arts and Culture, "Summer Sun Winter Moon shreds the pages of textbook history."
Notable highlights include performances by Grammy Award-winning Native American drum group Black Eagle, who will journey from New Mexico's Jemez Pueblo to attend the milestone event. Dressed in their traditional native regalia, the group will create an authentic musical blessing in support and celebration of the controversial documentary film's success.
Cochiti Pueblo Governor John F. Pecos states, "Summer Sun Winter Moon proudly wears the garment of historian as activist-scholar like the regalia of a traditional Native dancer moving to an ancient beat, bringing healing to our people - one people."
The private event is RSVP via email only and limited to members of the press, film trade associates, and bloggers with credentials, and will begin promptly at 6:30 pm in the Furman Gallery at Walter Reade Theater; 70 Lincoln Center Plaza, New York, New York.
Press kits including current biographies, hi-res images, music samples, and HQ Video Trailers are available for download at the Summer Sun Winter Moon media hub. Requests for interviews, appearances, and photo ops with the principal filmmakers and talent should be directed via email to mailto:press@1680pr.com [Ken Lingad]. Bloggers with credentials and members of press may request a full-length DVD for review.
About Summer Sun Winter Moon
Summer Sun Winter Moon, the thought-provoking documentary film that exposes viewers to the reality of the American Indian perspective of Lewis and Clark's legendary "Corps of Discovery" mission, is scheduled for primetime broadcast on PBS, November 2009 (check local listings). News releases and recent press engagements about the documentary challenge American audiences to "learn the one, controversial truth" by tuning in to PBS flagship WGBH and other stations throughout the U.S. during National American Indian Heritage Month.
Synopsis:
Rob Kapilow, a celebrated classical music artist, is commissioned to compose a symphonic work with a specific theme: a reflection of the enduring legacy of the Lewis and Clark expedition. Often referenced as a young Leonard Bernstein, the youthfully energetic Kapilow foregoes his original intent to set the journals of Lewis and Clark to music, choosing to actually re-trace the journey himself as a catalyst for fresh inspiration.
Upon engaging tribal representatives out West in active dialogue about how best to convey their stories, Kapilow finds himself overwhelmed at the crossroads of textbook history and the tangible perspective of the American Indian. Seeking to collaborate with Blackfeet tribal member Darrell Robes Kipp, the innovative artist delves into a sharply alternative - and controversial - avenue of perspective: that of the indigenous storyteller's view "from the river bank, not the boat."
"There's nothing to celebrate here…not for Indian people," says Darrell Robes Kipp, referencing the planned events for the celebration of the Lewis and Clark Bicentennial. The co-founder of the Nitzipuahsin Blackfeet Language Immersion School, Kipp is a poet and educator who has been laboring to salvage his native people's language from the brink of near-extinction. Enlisted by Kapilow, Kipp agrees to author the libretto for the symphony project, offering his own hand to the composer who dared to reach across the divide.
Executive Producer Cynthia Newport and award-winning Director Hugo Perez bring to the national viewing audience Summer Sun Winter Moon's inherent declarations of truth, proving to be important and timely in what it tells us about ourselves, about our place in time, and about the choices we have to make moving forward. While there are two sides to every story, viewers are left haunted by the words of two storytellers with one story that can only be interpreted by each individual.
Follow Summer Sun Winter Moon on twitter for up-to-date information about film festival screening schedules, sneak previews, artist interviews, and special events featuring the Grammy award-winning Native American group Black Eagle.
Become a fan on Summer Sun Winter Moon's facebook page and view additional HQ video footage not seen in the final cut, in addition to the video diary of Jesse DesRosier - an intimate look into the life of a teenage boy who resides on his native Blackfeet reservation. The videos capture the challenges DesRosier faces as a young American Indian who lives in two worlds: modern mid-America and that of his traditional heritage.
About the Filmmakers:
Executive Producer Cynthia Newport is the founder and president of illume productions, which originated and developed Summer Sun Winter Moon. Previously, she worked with Rob Kapilow as Chief Producer of Monuments at the Millennium - an arts collaboration involving the Kennedy Center, National Public Radio (NPR), the Kreeger Museum, and the National Symphony Orchestra, as well as a dozen community-based organizations. Newport is also director/producer of Fidel's Last Dance, a feature-length film scheduled for Spring 2010 release.
In addition to directing and producing Summer Sun Winter Moon, Hugo Perez is the Producer and Director of the feature documentary Neither Memory Nor Magic, which is narrated by the Academy-Award Nominated Patricia Clarkson. In 2008, he was a recipient of the prestigious Rockefeller Foundation/Tribeca Film Institute Emerging Artist Fellowship in support of the development of his first narrative feature Immaculate Conception. Perez' short film Julietta Y Ramon was broadcast as part of the 2005 Showtime Latino Filmmaker Showcase; after which his short film Betty La Flaca was the winner of the 2006 HBO/NYILFF Short Film Award. Most recently, Hugo Perez was presented with the 2009 Estela Award for Documentary Filmmaking at the NALIP 10th Anniversary National Conference.
About illume productions:
illume productions is an enterprise engaged in the development of multimedia products - including feature-length films - that focus on the intersection of arts and community: a neighborhood, a nation, or a whole culture. illume's projects use the arts as channels into complex issues including individual and national identity, human rights, democracy, health and education.
Contact:
Ken Lingad
1680PR
505-227-2580
http://www.1680pr.com
###