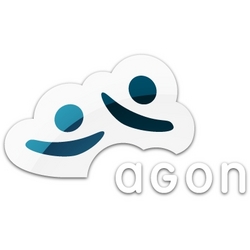 We are really excited about our games site. Developers can get their games exposed to a greater audience while players can explore the many games that support awards and geotagged global high scores
Copenhagen, Denmark (PRWEB) October 22, 2009
AGON Online, a leading social gaming platform for iPhone, launches games site targeted at end users. The games site allows users to browse AGON Online enabled games and seek out details of each game.
AGON Online announces the launch of its new games website at agon-online.com.
AGON Online, a leading social platform for iPhone games, has grown as more and more games join the platform. Now people can browse close to one hundred games already on the App Store, with many more to come.
"We are really excited about our games site. Developers can get their games exposed to a greater audience while players can explore the many games that support awards and geotagged global high scores," says Daniel Povlsen, CEO at Aptocore.
The site allows iPhone and iPod Touch users to easily find new AGON Online enabled games. Each game has a details page showing a description, images and an optional gameplay video. Additionally the users can see details on the number of awards and the available PocketScores for each game. The site also displays live data from the AGON Online network, including recent game events, online leaderboards as well as real time visualization of where in the world people submit high scores through AGON's geotagged highscore system.
The AGON Games site will be extended with community features starting with the ability for users to login using their AGON Online profile. The latest version of the AGON Online client was recently released with support for multiple profiles per device. Combined with the new AGON Cloud Storage component AGON now provides an industry leading online and offline profile management solution for iPhone and iPod Touch gamers.
A video showcasing the latest features of the AGON Online client can be found here: http://www.youtube.com/agononline
Some of the lastest games using AGON online include:

The Creeps, by Super Squawk Software
Inkvaders, by Games Faction
Peter Und Vlad, by Dexoris
Eyegore's Eye Blast, by Retro Dreamer
Underworlds, by Pixel Mine Games
Samurai: Way of the Warrior, by Mad Finger Games
QuizQuizQuiz, by Four Door Lemon
To visit the games web site or to learn more about the AGON Online platform please visit the AGON Games site.
AGON Online is developed by Aptocore, based in Denmark, and consists of a team of experienced game developers with their background in game engine development for all the major console platforms and PC. In Late 2008 they brought their knowledge and experience over to the iPhone to provide intelligent, scalable and stable solutions for the growing market of mobile games. Aptocore invites independent developers as well as large publishers to visit http://developer.agon-online.com or write to developer (at) agon-online (dot) com to sign up and get the SDK.
###