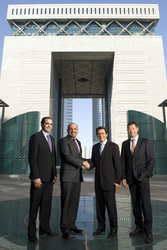 (Vocus) October 22, 2009
Gulfmena, an asset manager specialising in the Middle East and North Africa, has selected SunGard's Asset Arena Portfolio Management solution to help automate its front- to-back-office operations. Asset Arena Portfolio Management is a global, real-time, browser-based solution that provides investment management firms with integrated trading, accounting, performance measurement, reconciliation and reporting.
SunGard's Asset Arena Portfolio Management solution will help Gulfmena automate its asset management processes across the region. It will also help meet Gulfmena's portfolio management and operations requirements by providing front- and middle-office functionality such as robust portfolio modeling features, advanced rebalancing capabilities and "what-if" analysis. Finally, Asset Arena will provide Gulfmena with performance measurement and attribution tools that adhere to the Global Investment Performance Standards (GIPS), a compliance module, and risk analytics, while helping the firm manage its operations and IT costs.
Haissam Arabi, Gulfmena chief executive officer and founder, commented, "In today's changing asset management and hedge fund landscape, fund managers need to increase their focus on transparency, governance, compliance and regulations. Technology can help address these needs as well as aid in the management of portfolio risk. SunGard's Asset Arena Portfolio Management solution will help us meet increasing client demands and address our stringent risk management criteria. We believe the solution will also help us achieve our mission of becoming the region's premier asset management company and specialist hedge fund manager."
Wissam Khoury, managing director for SunGard's financial systems business in the Middle East, said, "The growing requirements of asset managers in the Middle East necessitate automated solutions that help increase transparency, risk controls and service quality. SunGard's Asset Arena will help Gulfmena automate its investment operations lifecycle, achieve operational efficiencies and reduce risk and cost. This relationship demonstrates SunGard's commitment and dedication to providing locally-proven solutions for the requirements of the Middle East's finance industry."
About Gulfmena Alternative Investments Limited (Gulfmena)
Gulfmena Alternative Investments is a specialist fund and asset manager focused on the Middle East and North Africa (MENA) markets. It is licensed by the Dubai Financial Services Authority (DFSA) to operate as an asset management company from the Dubai International Financial Centre (DIFC).
Gulfmena's primary fund management activity focuses on introducing absolute return strategies and relative value hedge strategies for professional clients who are qualified institutional or high net worth investors seeking exposure to MENA markets. It also offers international and regional clients customised strategies and investment management services catering to conventional, Shari'ah compliant and long only relative value investors.
For further information, please visit: http://www.gulfmena.com
About Asset Arena
Asset Arena is SunGard's global suite of products and services for asset managers, institutional investors, and traditional and alternative fund administrators. Asset Arena supports the core functions of the asset management industry including investment management, investment operations and investor servicing. By leveraging technologies such as business process management and software-as-a-service, Asset Arena helps investment firms manage complexity, increase efficiency, and reduce costs and operational risk, while maintaining agility to respond to changing business and regulatory requirements. For more information, visit http://www.sungard.com/assetarena.
About SunGard
SunGard is one of the world's leading software and IT services companies. SunGard serves more than 25,000 customers in more than 70 countries.
SunGard provides software and processing solutions for financial services, higher education and the public sector. SunGard also provides disaster recovery services, managed IT services, information availability consulting services and business continuity management software.
With annual revenue exceeding $5 billion, SunGard is ranked 435 on the Fortune 500 and is the largest privately held business software and services company on the Forbes list of private businesses. Based on information compiled by Datamonitor*, SunGard is the third largest provider of business applications software after Oracle and SAP. Continuity, Insurance & Risk has recognized SunGard as service provider of the year an unprecedented six times. For more information, please visit SunGard at http://www.sungard.com.
*January 2009 Technology Vendors Financial Database Tracker http://www.datamonitor.com
Trademark Information: SunGard, the SunGard logo and Asset Arena are trademarks or registered trademarks of SunGard Data Systems Inc. or its subsidiaries in the U.S. and other countries. All other trade names are trademarks or registered trademarks of their respective holders.
###