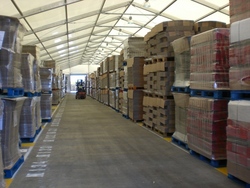 Uttoxeter, Staffordshire (PRWeb UK) October 23, 2009
Spaciotempo was approached by the company's Northern Regional Director, Andy Burrows, to propose a solution for an external temporary structure. His key requirement was for a sufficiently large building that would not only provide storage but also protection of the company's paper based products from the effects of the weather. Working hand in hand with Tony Farley from Spaciotempo, Andy has appreciated the additional service that came as standard when working with Spaciotempo. He commented:
"From my initial enquiry through the website I have been extremely pleased with the service from Spaciotempo. They have responded quickly and efficiently to all my requests for help with the erection of this much required storage facility. We have booked the building for an initial two years and I very much hope to extend that contract. I have recommended the company across the group for future temporary storage needs as I feel they go the extra mile to meet our needs."
Spaciotempo supplied and installed a 1600m² temporary warehouse on site in within two months, having fully assisted the company with the specification, drawings and planning permission for the temporary structure. A combination of anodised aluminium frame, high quality UPVC wall panels and thermo roof has ensured that the stock has remained fully protected from the inclement Northern weather. The addition of roller shutter doors has ensured ease of access for the company's fork lift trucks whilst two personnel doors ensure that the company is fully compliant with health and safety requirements for pedestrians.
Available for sale or hire, storage buildings, modular buildings, portable temporary buildings and warehouses can be provided 'off-the-shelf' for an immediate solution from vast stocks held on site and ready for immediate shipping all over the UK. With industry leading response times Spaciotempo can work to the tightest of deadlines.
For further information on Spaciotempo's extensive range of products and services for the industrial, retail, sports, events and humanitarian sectors, call now on 01889 569 569.
###