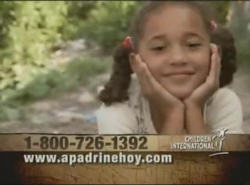 Anyone can become a sponsor and instigate great change by empowering these children to escape a life of poverty.
Chicago, IL (PRWEB) October 23, 2009
Northern Lights Direct Response has created a Spanish long-form direct response television (DRTV) campaign for Children International, and will also handle the media buy.
"Niños al Borde" ("Children on the Edge") is hosted by actor and Children International sponsor, Julio Cedillo. The program draws attention to the plights of Yanuel, Manase and Jennifer - children who are trapped in poverty-stricken communities around the world and urgently in need of help. It also features testimonials from Children International sponsors, including Brady Bunch star, Maureen McCormick, who visits Manase and witnesses her heart-wrenching reality.
"Through DRTV (http://www.nldrtv.com/services/), we have been able to assert our brand power and communicate our message to television viewers, and we believe it's time to pay closer attention to the underserved but rapidly growing Hispanic market," says Brian Anderson, Vice President of Marketing and Development for Children International. "Anyone can become a sponsor and instigate great change by empowering these children to escape a life of poverty."
Ian French, President of Northern Lights, is a firm believer in DRTV for nonprofits. "For strong and trusted nonprofit brands such as Children International, DRTV has been an invaluable marketing tool to increase their number of sponsors and donors," French says.
The DRTV campaign is running across the U.S.
About Northern Lights:
Northern Lights Direct Response (http://www.nldrtv.com/) is a leading brand direct response agency. We offer full turnkey strategy, media, creative and production services in both the U.S. and Canada for Direct Response Television, Direct Response Radio and Direct Response Online campaigns. Clients include: Sports Illustrated, World Society for the Protection of Animals, Manulife Financial, BMG Columbia House, Bell, TD Bank Financial Group, DIRECTV, Scholastic and Yves Rocher. For more information, visit http://www.nldrtv.com.
About Children International:
Established in 1936, Children International is a nonprofit organization with its headquarters in Kansas City, Missouri. Children International's programs benefit more than 325,000 sponsored children and their families in 11 countries around the world including Chile, Colombia, the Dominican Republic, Ecuador, Guatemala, Mexico, Zambia, Honduras, India, the Philippines and the United States. For more information about Children International, visit http://www.children.org.
Contact:
Ian French
President
Northern Lights Direct Response
(416) 593-6104 (x223)
###