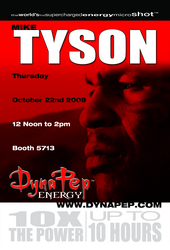 I believe that with our spokespersons and event marketing campaign we will continue to make DynaPep™ a National brand name
Boca Raton, FL (PRWEB) October 21, 2009
DynaPep™ announced today that former heavyweight world champion Mike Tyson will be appearing at the DynaPep™ tradeshow booth #5713 during the NACS Convention in Las Vegas. Tyson will sign autographs and take pictures on Thursday, October 22nd from 12 noon to 2pm.
DynaPep™ is the World's First Supercharged Energy Micro-Shot that has rocketed to become the newest craze in this year's energy category. DynaPep™ is now available nationally in over 20,000 retail locations and at http://www.dynapep.com.
Tyson, appearing last week on the Oprah Winfrey show where Oprah asked "Iron Mike" about it all - his tumultuous marriage and divorce from Robin Givens, his trial and three-year incarceration, his controversial bout with Evander Holyfield, this year's documentary "Tyson" and much more. Tyson opened up about his battles inside and outside the boxing ring as he talked about his childhood in Brooklyn and the bullying that made him a fighter--and his training under the legendary Cus D'Amato that made him a champ.
DynaPep™ is using numerous celebrities and athletes in their National marketing campaign. During the past year DynaPep™ has contracted with UFC's Rashad Evans (who won the world title), MMA Champion Paul Buentello (AKA the Headhunter, who has just resigned to the UFC), NFL Great Sam Madison, as well as DynaPep™ being a NASCAR sponsor at this year's Daytona 500, National BMX events and much more.
"I believe that with our spokespersons and event marketing campaign we will continue to make DynaPep™ a National brand name" said Lisa Krinsky, C.E.O. and co-founder.
DynaPep™ based in Boca Raton, Florida, is the World's First Supercharged Energy Micro-shot. Packaged in a liquid 4ml twist off top ampoule, its time-released suspension ensures hours of long lasting energy. For more information on DynaPep™, visit http://dynapep.com or contact Douglas Friedman at 973-985-1050.
###