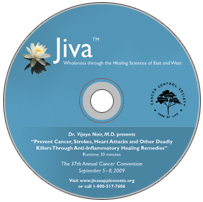 Preventing Cancer, Strokes, Heart Attacks and other Deadly Killers through Anti-Inflammatory Healing Remedies
Mount Kisco, NY (Vocus) October 24, 2009
In this new DVD, Dr. Vijaya Nair discusses the facts about cancer including the incident rates and causes of this deadly disease. In her eye opening speech, Dr. Nair identifies the link between chronic inflammation and cancer, including ways you can fight it.
Chronic inflammation can be eliminated with simple lifestyle changes and natural supplements like fermented soy and curcumin. Dr. Nair reveals the science and research behind preventing cancer and other chronic diseases caused by chronic inflammation with her Jiva line of supplements.
To download the digital version of Dr. Nair's DVD visit iAmplify or visit Jiva Supplements. "Preventing Cancer, Strokes, Heart Attacks and other Deadly Killers through Anti-Inflammatory Healing Remedies", was filmed during the 37th Annual Cancer Convention in September, 2009. Also included for FREE with the digital download are short informational clips on Dr. Nair's natural, nutritional Jiva Supplements.
"Dr Nair makes a compelling case for inflammation as the root cause for cancer and other diseases of aging and brings solid scientific support for its prevention with anti-inflammatory therapies" says Erika Schwartz, MD.
The lecture contains information on the following:

Cancer Incident and Mortality Rates
The Causes of Human Cancers
Nutritional Links to Cancer
Why We Are Losing the War
Time Article: The Secret Killer
What is Chronic Inflammation?
Inflammation Triggers
Chronic Inflammation and Cancer
The Hypothesis
Anti Cancer Drugs and Natural Products
Ayurveda Therapy
Cultured Soy and Cancer
The Importance of Culturing
Curcumin: Getting Back to Our Roots
The Value of Herbal Formulas
Living an Inflammation Free Lifestyle
The short informational videos are also included that discuss the health benefits of Jiva Supplements so that you can start living a longer, healthy life and increase your energy naturally. JIVA is dedicated to providing natural supplements to enhance your health, based on time-honored healing sciences from traditional Chinese medicine and highly respected Ayurvedic principles of India. Jiva supplements prevent cancer and other deadly diseases by reducing chronic low-grade inflammation.
"I am in the middle of reading your book, and I have been taking the powder every day since Friday and I have to say that I really believe in the product. I have certainly been feeling the boost of energy, and I felt like I didn't even need my coffee!" says Liz K. from Astoria, NY.
Our all natural nutritional supplements; based on patented and evidence-based formulas; are supported by world-renowned research scientists and doctors to promote a positive influence on:

Heart Health
Bone & Joint Health
Digestive Health
Healthy Inflammatory Response
Lung and Liver Health
Brain Health and Libido
Immune Health
Eyes, Retina and Visual Acuity
All Jiva products are vegetarian, wheat-free, gluten-free and dairy-free. Jiva Essence of Life Supplements are available online at http://www.jivasupplements.org or by phone at 1-800-517-7606.
About Essence of Life:
Essence of Life, distributes JIVA products, an evidence based and medically sound line of nutritional supplements that are carefully formulated according to scientific guidelines. Products are available to the public through http://www.jivasupplements.org and natural health food stores nationwide.
###