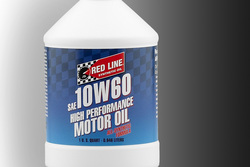 Benicia, Calif. (Vocus) October 22, 2009
BMW technicians and enthusiasts frustrated with the lack of motor oil options in the 10W60 range for M-cars can now benefit from the performance, durability and availability of Red Line's 10W60 Motor Oil (PN 11704). Including the robust ZDDP antiwear packages one expects from our products, Red Line's fully-synthetic motor oils are engineered from polyol-ester base stocks to offer better fuel economy through reduced friction and offer a thicker oil film at operating temperature than conventional oils and synthetic blends. Sold in Asian markets for years, this product is now finally available for consumers and installers in the North American market.
Sophisticated M-series BMW engines will benefit from Red Line's superior high temperature stability and oxidation resistance, which increases lubrication of hot metal compared to other synthetics. A high natural viscosity index provides thicker oil film in the bearings and cams, and Red Line oils have less evaporation than other synthetics for improved efficiency and ring seal. Longer drain intervals are a major benefit. This product is available in quarts (PN 11704), gallons (11705), 5-gallon pails (11706), 16-gallon drums (11707) and 55-gallon drums (11708).
About Red Line
Celebrating its 30th anniversary, Red Line Synthetic Oil Corp. manufactures more than 100 quality products for the automotive, racing, motorcycle, marine and industrial markets. Its complete line includes a wide variety of motor oils, gear oils, additives, and greases. For more information, please visit http://www.RedLineOil.com or contact Red Line Synthetic Oil Corp., 6100 Egret Court, Benicia, CA 94510.
###