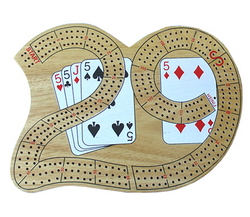 Rosharon, TX (PRWEB) October 23, 2009
A classic card game has been found to have surprising applications in the classroom. CribbageSupply.com, the web's leading retailer of cribbage boards and other cribbage supplies, encourages educators to teach mathematical concepts using cribbage as an instructional tool.
The game of cribbage is a discrete example of combinatorics, permutation, probability and statistics and more basic arithmetic. Cribbage scoring relies not only on playing cards that total fifteen, but also on the order in which those cards are played, an element that stresses the relationship between numbers and key mathematical properties to students.
To support educators incorporating this fan-favorite card game into their lessons, CribbageSupply.com is offering a special low price on cribbage boards suited to classroom use.
About Cribbage:
One of the most popular and enduring card games in the world, cribbage dates back to the early 1600s, when it was created as a variation on another card game known as "noddy." In modern times, the game of cribbage is especially popular with US submarine crews.
About CribbageSupply.com:
Selling Cribbage supplies online since 2005, CribbageSupply.com is proud to provide cribbage boards and supplies to American primary and secondary schools from Maine to California. The site offers a wide and unique selection of cribbage boards, pegs and other accessories for the game. If you are an educator who wants to purchase cribbage supplies for your classroom, call 1-877-MUGGINS.
###