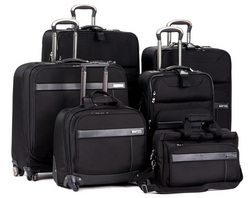 Pittsburgh, PA (Vocus) October 23, 2009
Extremely lightweight yet powerfully durable, Delsey USA's new Helium Intrigue and Helium Contour collections combine superb quality, exceptional detail and modern practicalities that accommodate the needs of today's traveler, and ensure these needs are carried with ease, comfort and style.
Featured on both the Helium Intrigue and Helium Contour collections is Delsey's EZ GLIDE technology - a set of four 360o rotation wheels yielding stable four-point contact with the ground, multi-directional rolling, and smooth maneuvering and control along multiple surfaces. EZ GLIDES's unique design helps relieve luggage-related strain by reducing "push and pull" stress off the back, neck and shoulders and allowing travelers to maintain proper posture. Step and curb protection is provided by a polypropylene covered kick area.
According to Delsey representative Karen Schiefler, "the progressive engineering behind EZ GLIDE technology supports the ease of traveling with Delsey's Helium Intrigue and Helium Contour luggage collections, be it a single upright case or with multiple bags (when stacked on an EZ GLIDE upright). The reinforced stability of four wheels and effortless 360 degree mobility achieved through EZ GLIDE technology, coupled with an extremely lightweight Delsey case, provide travelers with a stress-free, versatile packing solution."
Both collections also utilize Delsey's Recessed Locking Trolley™ Handle System made of aircraft grade aluminum for strength, and an ergonomic grip with extra long extension tubes deployed by a central push-button.
The lightweight, sophisticated and Ergonomically-shaped Helium Intrigue collection, consisting of six pieces available in black or wine, is made of 1680 Ballistic Nylon with EVA foam backing and a double wheel system maintaining eight points of contact to the ground for greater stability. Each Helium Intrigue case features a TSA accepted combination lock, two front pockets, a removable suiter, a luxurious, fully-lined interior with winged tie-down straps, and mesh pockets for personal items. The Helium Intrigue collection comes with Delsey's Worldwide Limited Lifetime Warranty.
The stylish Helium Contour collection, consisting of four lightweight luggage pieces, is made of black Dura Ballistic material. Each Helium Contour case features one exterior pocket, an integrated ID tag, a mesh lid pocket, full-lining with tie down tapes, and a single rolling wheel system. The Helium Contour collection comes with Delsey's Worldwide Limited 10-Year Warranty.
For extra versatility, each collection is thoughtfully designed with an adjustable Add-a-Bag Strap to carry additional bags hands-free.
Travelers will also appreciate the ability to E.X.P.A.N.D. their Delsey case up to two additional inches for extra packing capacity, as well as lockable self-repairing nylon coil zippers on the main opening.
Delsey's Helium Contour and Helium Intrigue collections are now available through major department stores, luggage specialty retailers, and online at eBags.com and luggage.com. For more information on Delsey USA's luggage collections designed for today's personal and business traveler in mind, visit http://www.delseyusa.com.
Media Contact:
Michael Berger
Delsey USA Media Relations
412.471.0840
# # #