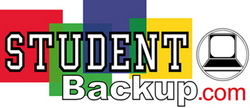 The majority of students experience a computer failure and lose their important papers and critical work files
Floral Park, NY (PRWEB) October 23, 2009
The familiar saying "Spring Forward- Fall Back" is the catchy reminder to set our clocks ahead one hour in the springtime and one hour back in the fall, November 1st this year. After students set their clocks back, Maggie Tolkin and Amy Motschwiller, mothers of college students, suggest that students go a step further and "back-up" the schoolwork files stored on computers. They also suggest parents remind their students to back-up as well. Maggie and Amy are the founders of StudentBackup.Com, an easy to use software program that guards against loss of computer data. However, they are strong advocates for students backing-up work as often as possible and by using whatever device or means available.
While computers automatically adjust their internal clocks to Daylight Savings Time and Standard Time, they fail to guarantee students the most important task of all, safeguarding the files that contain students' schoolwork. Without regularly backing-up there is always the possibility that information and work could be lost forever. If a computer is backed-up automatically and on a regular, secure basis, research papers and other important assignments can be retrieved. Not only do computers crash or malfunction, they are often stolen or lost. Unfortunately many students in high school, college and graduate school suffer academic consequences when these incidents occur. Little can console them if they find themselves in this situation.
"The majority of students experience a computer failure and lose their important papers and critical work files," according to Maggie Tolkin and Amy Motschwiller. A Cornell University study they initiated revealed that 60% of college students don't back-up their computer files. "Since students are complacent about the importance of backing-up files, parents can be the ones to suggest backing-up files or purchasing StudentBackup.Com, especially when they are turning back the time on their own clocks and realize the first semester of college is quickly drawing to a close for their children. Our product automatically and remotely backs-up critical work files; it is a very simple way to have an insurance policy against the loss of term papers and other school assignments," said Amy Motschwiller co-founder of Student Backup.
Student Backup was created by Maggie and Amy, the mothers of college students who did not back-up their schoolwork and suffered as a result. The software program is easy to install and inexpensive at $49 per year. The newly released 2009 Student Backup.Com, is MAC and PC compatible and offers unlimited storage space for school work files. All files are backed up using military grade encryption. For more information about this student support product, visit http://www.studentbackup.com.
# # #