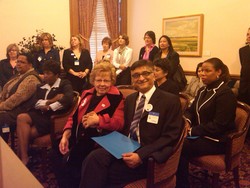 Trenton, NJ (PRWEB) October 28, 2009
District 17 New Jersey Republican Assembly Candidate Salim Nathoo received a recommendation from Women's Political Caucus of NJ at a press conference held today at the State House in Trenton, New Jersey.
District 17, consists of Franklin, Highland Park, Milltown, New Brunswick, North Brunswick, and Piscataway in the Middlesex and Somerset Counties in New Jersey (NJ).
The Women's Political Caucus-New Jersey is dedicated to increasing women's participation in the political process and creating a women's political power base to achieve equality for all women. For more information, please visit http://www.wpcnj.org.
At the press conference, Senator Loretta Weinberg who is Governor Corzine's running mate and a candidate for New Jersey's first lieutenant governor received an endorsement. Notably, women candidates receive endorsements while male candidates receive recommendations
Joseph Egan, an incumbent from District 17 did not receive the recommendation.
Dr. Salim Nathoo has been very active in issues related to women's wellbeing and has championed their cause for equal rights. He considers himself as a New Jersey public servant and not a politician. Therefore, as a dentist, he has been involved in providing no cost dental care to pregnant women especially because poor dental care has been correlated with low birth weight. As a scientist, he was actively involved in understanding the biological mechanisms that cause breast cancer, which may ultimately lead to a cure.
Dr. Salim Nathoo will issue a statement at a later date regarding his goals of ultimately providing no cost prenatal care to all women, extending family leave and preventing maternal death.
About Salim Nathoo:
Salim Nathoo is a former democrat who got disillusioned with the Democrat Party. He is the principal of Oral Health Clinical Services LLC a clinical trials and a technology development business in Piscataway, NJ. As a public servant and not a politician he is also involved in charitable to enhance the well being of our citizens. In the true spirit of pubic service, he is also a clinical professor at UMDNJ, Dental School in Newark, NJ and provides his services at no cost to the school or the state.
For More information, please visit http://www.snathoo.com.
For more information please contact: Salim Nathoo 732-266-0507
###