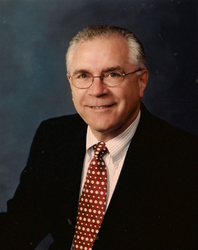 my first choice for this position. He is exceedingly capable and energetic -- the standard by which all sales and marketing professionals should be measured.
St. Petersburg, Florida (PRWEB) October 27, 2009
Ogden Gerard, LLC announced today that Charles "Charlie" Ochs will join the company to lead the national sales effort for the company's new multi-purpose specialty vehicle, Venue, an enclosed trailer that converts automatically into up to 2,400 square feet of customizable, climate-controlled space for applications ranging from entertainment, business displays, mobile disaster relief, emergency response, mobile emergency housing and light industrial.
Ochs brings more than 40 years of media and national sales experience to the new position, which will concentrate on Venue™ sales across a host of markets, including: hospitality for national sports franchises and corporate sponsors; trade show exhibits; emergency response command centers; emergency shelters; mobile disaster response; mobile business continuity; mobile clinics; emergency shelters; and military and homeland security applications.
From April 2000 to October 2008, Ochs was Senior Vice President/Market Manager of CBS Radio's six stations in the Tampa Bay, Florida market, which included the metropolitan area's top ranking country, urban, jazz, sports, classic hits, and Hispanic stations. As general manager, Ochs was responsible for a staff of more than 250, and total sales of $50-million, including national buys. Prior to coming to Tampa Bay, Ochs spent 10 years in Washington DC as Vice President/Market Manager of Viacom's (later AMFM, inc.) four radio stations. Prior to that he managed radio stations in Tampa and San Diego, and was in radio programming as a top rated on-air personality in Houston, Phoenix and several other western US markets. He was a U. S. Army combat correspondent in Viet Nam, twice earning both the Bronze Star and Purple Heart. He also was awarded the Army Commendation Medal with "V" for valor, the National Defense Ribbon, and various campaign medals.
As National Sales Director, Ochs will manage a team of independent sales specialists in each of the vertical markets, such as: sports hospitality; mobile emergency response; trade show exhibits; and defense/homeland security. Ochs will work with each representative to develop targeted sales and marketing plans and manage their execution by category and region.
"This is a tremendously exciting opportunity," Ochs said. "Venue has endless applications across a host of public and private industries and services. It will change the national landscape for mobile deployment and entertainment."
Eric Gerard, Ogden Gerard's managing member, said Ochs was "my first choice for this position. He is exceedingly capable and energetic -- the standard by which all sales and marketing professionals should be measured."
Venue™ will be manufactured exclusively by Frontline Communications, based in Clearwater, Florida, and a division of Oshkosh Corp. (NYSE: OSK).
Frontline http://www.frontlinecomm.com/ has built and delivered over 1,000 broadcast, communications and command vehicles all over the globe, and is a leader in its field.
To learn more about Ogden Gerard, LLC and Venue™, visit http://www.venuevehicles.com/.
###