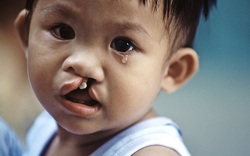 20 Years of Smiles – A Journey of Miracles
Norfolk, Va. (Vocus) October 23, 2009
To mark 20 years of providing new smiles for children and young adults throughout Vietnam, Operation Smile, Inc. and Operation Smile Vietnam will launch "20 Years of Smiles – A Journey of Miracles" from November 4 – 14, 2009. To highlight the diversity of programs offered, 15 simultaneous missions from Hanoi to Ho Chi Minh City will be conducted providing cleft lip and cleft palate surgeries, dental treatment, as well as reconstructive surgeries for burns and facial anomalies.
The free programs will be conducted thanks to the generous donation of time and talent from more than 300 international medical volunteers from Vietnam, the U.S., the Philippines, the U.K., Canada, India, Norway, Hong Kong, China, Ireland, Australia, Brazil, Belgium, Italy and Cambodia. The teams will set up in 15 sites to provide free medical and dental screening for thousands of Vietnamese children suffering from cleft lips, cleft palates, dental problems and other facial deformities. Operation Smile hopes to change the lives of nearly 3,000 children and young adults during this 10-day period.
The 20th Anniversary commemoration will begin on November 4 with a Gala Dinner in Hanoi at the Intercontinental Hanoi Westlake with attendance by Smile Ambassador Jackie Chan, officials of the government of Vietnam, Operation Smile Vietnam sponsors and donors, and team members from around the world to mark the historic significance of the 20-year partnership. Other special guests will include: Operation Smile Vietnam's Youth Ambassador Mai Phuong Thuy (Miss Vietnam 2006), and singers My Tam and Dam Vinh Hung.
On November 6, free medical and dental screenings will begin at 15 sites throughout Vietnam, followed by one week of surgical and dental treatments for selected patients. At the close of the week, approximately 3,000 Vietnamese children will celebrate their new smiles and "A Journey of Miracles" will conclude on November 14 in Ho Chi Minh City with a Smile Festival and Thank You Concert at Le Van Tan Park attended by key officials, sponsors and team members.
Operation Smile Vietnam Board Chairman Kenneth Atkinson commented about the significance of the 20th milestone, saying, "Operation Smile Vietnam has become a well-known organization with a reputation for credibility and building sustainability. We are grateful to our sponsors, our volunteers and our staff for their tireless work and continued commitment to making a difference. We look forward to the next 20 years of helping children smile throughout Vietnam."
Headquartered in Norfolk, Virginia, U.S.-based Operation Smile was launched 27 years ago by Dr. Bill Magee, a plastic surgeon, and his wife Kathy Magee, a former nurse and clinical social worker, to help children with devastating facial deformities. Today, Operation Smile has a presence in 50 countries in addition to Vietnam, where its history began in 1988 when General John W. Vessey (Ret.) invited Operation Smile to send a medical education team to Vietnam as part of the MIA/POW initiatives. In a quest to help normalize U.S./Vietnam relations, Operation Smile sent a team of 38 medical volunteers to Hanoi in February 1989. The team included seven Vietnam War veterans and comprised the largest group of Americans to enter Vietnam since the War's end in 1975. The team of American and Vietnamese surgeons worked together to repair the cleft lips and palates of 100 Vietnamese children.
According to Dr. Magee, "When we first went into Vietnam in 1989 we did so because we believed that children are the only language we all have in common. Twenty years later, in Vietnam and in all of our partner countries around the world, we still believe that uniting people across cultures and borders for the sake of a child in need is what helps us heal the wounds of the past. We are proud of what we have accomplished together and extend our best wishes to our friends in Vietnam as they launch a new era of programs to care for more Vietnamese children every year."
Planning for this historic program has been underway for more than a year and is made possible by generous donations from sponsors in Vietnam including: Mobifone, Unilever, HSBC, and Manulife, and in the U.S. by generous foundations, corporations and families. "20 Years of Smiles – A Journey of Miracles" is being supported by the Vietnamese government, the Ministry of Health, and the U.S. Embassy.
To follow this historical medical mission, with daily photos, videos, and blogs, visit http://www.operationsmile.org/vietnam.
About Operation Smile (http://www.operationsmile.org)
Our Mission: Operation Smile mobilizes a world of generous hearts to heal children's smiles and transform lives across the globe. Founded in 1982, Operation Smile, headquartered in Norfolk, Virginia, is a worldwide children's medical charity whose network of global volunteers are dedicated to helping improve the health and lives of children and young adults. Since its founding, Operation Smile volunteers have treated more than 135,000 children born with cleft lips, cleft palates and other facial deformities and the organization has a presence in over 50 countries. In addition to contributing free medical treatment, Operation Smile trains local medical professionals in its partner countries and leaves behind crucial equipment to lay the groundwork for long-term self-sufficiency.
Contact: Scott Vooss (757-321-7697)
###