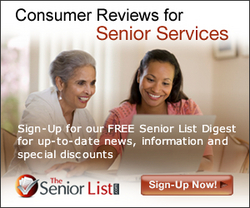 We're amazed at the growth of our brand, and now we're more focused than ever on growing our consumer-opinion numbers
(PRWEB) October 22, 2009
The Senior List® (http://www.theseniorlist.com) announces a major milestone in its growing database of eldercare providers. Recently, the 70,000th eldercare provider was added to the site's database, making it one of the fastest growing eldercare resources in the country. After a national launch in November of last year, The Senior List has firmly established its consumer-opinion brand in the much coveted boomer-focused marketplace.
"We're amazed at the growth of our brand, and now we're more focused than ever on growing our consumer-opinion numbers," says Chris Clark, co-founder and CEO. "To me, the biggest value for consumers will be realized when they can turn to a resource like The Senior List, and read meaningful testimonials from their peers. This will be our primary focus as we move into 2010".
The Senior List is a consumer-opinion website focused on linking families to quality senior-services
online. The directory listings range from assisted living facilities and nursing homes, to elder law attorneys and everything in-between. Valerie VanBooven RN BSN, Owner, LTC Expert Publications (http://www.theltcexpert.com) requires that all of her clientele who have accounts via her http://www.LTCSocialMark.com program have a listing on The Senior List. Valerie and her staff have enrolled close to 200 providers nationwide, and they recommend the site to all 2500 of her regular readers. Ms. VanBooven remarks, "I think The Senior List has the best interest of consumers and providers in mind, and I think both of those things can coexist in a consumer-opinion site. In business, reputation is everything; The Senior List simply provides a platform for the best to rise to the top".
The Senior List is a free resource that allows families to review, rate, or add senior-service providers to the eldercare directory. Businesses can add their info to the database at no-charge, and consumers are strongly encouraged to share their opinions in an effort to help a neighbor in need. You can find The Senior List online at http://www.theseniorlist.com.
This press release was distributed through PR Web by Senior Care Marketer (SeniorCareMarketer: http://www.SeniorCareMarketer.com) on behalf of the company listed above.
###