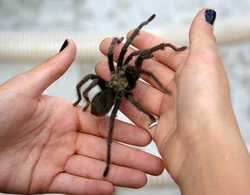 Oakhurst, CA. (Vocus) October 22, 2009
Visitors and residents alike will have the opportunity to take advantage of a busy weekend with some great events in Madera County.
Race fans will enjoy an action packed evening at the Madera Speedway Saturday, Oct. 24. The night's events feature numerous races of various classes, trick-or-treating for kids, and what promises to be an impressive fireworks display.
Races will include USAC Sprints and Midgets, Limited Stock Open Show, Boat Drags, Demolition Derby and a 200 lap Enduro. The Enduro should be a messy event, as the track will be covered in soap and pumpkins, making for a slippery, smashing good race.
The gates will open at 2 pm, with the green flag dropping at 4 pm. The fireworks are anticipated to begin at 9 pm, depending on how long the races take. For more information, log on to http://www.racemadera.com.
Coarsegold is hosting the 12th Annual Coarsegold Tarantula Festival Saturday, Oct. 24 as well. The festivities kick off at 10:30 am at the Coarsegold Historic Village with a pumpkin pie bakeoff. Other fun events will include a scream off, pumpkin decorating contests, hairiest leg contests for men and women and of course the tarantula races.
For more information, including a full schedule of all the day's events, log on to http://www.coarsegoldhistoricvillage.com.
Drama will be in the air in Oakhurst this weekend as well, as the historic Golden Chain Theatre presents Murder at the Orient Express. This murder/mystery will provide plenty of laughs as private eye Dudley Sharp attempts to solve a mystery at the Orient Express, a Chinese restaurant owned by two Irish sisters and ran by their German waitress. Tickets, times and more information can be found at http://www.goldenchaintheatre.org. This will be the final weekend of the play.
The annual Walking Tour of Historic Raymond is also planned for Saturday, October 24. This free tour will highlight the history of the community and explore the attractions of the area. The free tour starts at the Raymond Museum at roads 600 and 608. More information can be obtained by calling 559-642-4448.
For more events throughout the year, visit the Yosemite Sierra Visitors Bureau website at http://www.YosemiteThisYear.com.
###