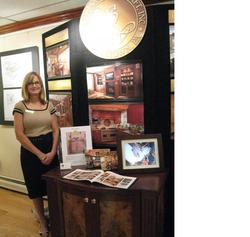 Doylestown, PA (PRWEB) October 23, 2009
Superior Woodcraft, Inc., nationally-recognized custom cabinetmaker, located in Doylestown, PA, kicked off the fall season by presenting its latest eco-elegant furniture, cabinetry, and remodeling designs at the Fine Home Building Expo. Superior Woodcraft, an industry leader in environmentally sound practices and processes, designs, handcrafts, and installs heirloom-quality custom cabinetry, providing locally made and sustainable products of lasting value, utility, and beauty.
The Fine Home Building Expo, hosted at the IQnection Exhibition Gallery, 26 East Oakland Avenue, Doylestown, PA, continues through October 30th. Gallery hours are 9:00 am to 5:00 pm, Monday through Friday. All proceeds from the show's Silent Auction benefit Habitat for Humanity Bucks County. Auction items include limited-edition cheeseboards, jewelry, and a gourmet gift basket. Auction bidding ends a 5:00 pm, October 30th. For more information, visit http://iqnection.com/gallery/silent_auction.htm.
About Superior Woodcraft, Inc.
Superior Woodcraft, Inc. designs, handcrafts, and installs heirloom-quality custom cabinetry with environmentally sound practices and materials; providing a locally made, sustainable product of lasting value, utility, beauty and harmony. Founded in 1967 by master cabinetmaker, Karl H. Geiger, Superior Woodcraft is committed to preserving the time-honored skills, traditions and integrity of old-world cabinetmaking. This philosophy transcends every style and thematic design when producing the highest-quality custom cabinetry for your entire home. Superior Woodcraft's master cabinetmakers, finishers and designers specialize in handcrafted cabinetry for custom kitchens, custom-fitted kitchens, master baths, pantries, bars, and offices. Living room built-ins, free-standing kitchen islands, powder room and bathroom vanities, and armoires are also available. View online portfolio at http://www.superiorwoodcraft.com
About Habitat for Humanity Bucks County
Habitat for Humanity of Bucks County is a Christian ministry that calls on all people regardless of religious preference or cultural background to make safe, simple, affordable housing a matter of conscience and action in Bucks County. Each home Habitat for Humanity builds in Bucks County requires a commitment of 2000 volunteer hours, financial contributions of $115 per square foot, and the dedication of innumerable individuals speaking on behalf of the program. Habitat relies strictly on the generosity and commitment of neighbors and partner families to provide these resources. To learn more visit http://www.habitatbucks.org/about_habitat_bucks.htm.
About IQnection Internet Services and Exhibition Gallery
IQnection is a web design and web development company located in Doylestown, PA. The IQnection staff takes underperforming, outdated websites and turns them into lead-generating powerhouses. The IQnection Exhibition Gallery offers a space for local artists and businesses to support the community. The gallery features diverse forms of applied art, including movie posters, book cover art, handmade jewelry, animation, paintings, interactive media, photography, green products, stained glass windows and sculpture. Each show presents an opportunity for local businesses to sponsor the two month exhibit. To compliment the festivities, the gallery will feature one non-profit organization whose cause relates to the show's theme. To learn more visit http://www.IQnection.com.
# # #