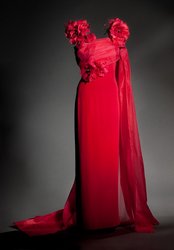 Nancy Reagan: A First Lady's Style.
Los Angeles, CA (PRWEB) October 23, 2009
FIDM Museum & Galleries commemorates three decades of fashion design courtesy of socialite and style icon Betsy Bloomingdale in its latest exhibition, "High Style: Betsy Bloomingdale and the Haute Couture." The collection features a stunning array of designer ensembles, from a feathered silk dress by Karl Lagerfeld for Chanel to a lovely Christian Dior gown with hand-dyed silk organza petals.
A 2009 inductee into the Best Dressed Hall of Fame, Bloomingdale is the widow of Bloomingdale's department store heir, Alfred S. Bloomingdale. A native of Beverly Hills, she is an internationally known socialite whose heralded collection of haute couture pieces has earned her universal respect in the fashion design industry. A friend of Ronald and Nancy Reagan, Bloomingdale was an honored guest at the Ronald Reagan Presidential Library for a fashion exhibition entitled "Nancy Reagan: A First Lady's Style." She was also selected to honor well-known fashion designer James Galanos with the Rodeo Drive Style Award in 2007.
"High Style: Betsy Bloomingdale and the Haute Couture" celebrates the donation of over one hundred haute couture garments given to the FIDM Museum at FIDM/Fashion Institute of Design & Merchandising over the past thirty years. Featuring more than sixty fashionable ensembles, the exhibit showcases the creation of haute couture garments and presents a never-before-seen look into Bloomingdale's personal life and style. Other items on display include hand-drawn croquis, contemporary photographs, and magazine layouts illustrating garments ordered by Bloomingdale.
Costume designers featured in this remarkable exhibition include Marc Bohan, Gianfranco Ferre for Christian Dior, Hubert de Givenchy, Pierre Balmain, Yves St. Laurent, Andre Courreges, James Galanos, Adolfo, Oscar de la Renta, and Valentino. Accompanying the exhibition is a catalog and video documentary, which includes interviews with Mrs. Bloomingdale, Hubert Givenchy, James Galanos, Oscar de la Renta, Adolfo, and Francois Lesage, among others.
The exhibition is open to the public through Sunday, December 13th, 2009 and museum admission is free. For more information visit FIDM.edu.
With four dynamic California campuses, FIDM/Fashion Institute of Design & Merchandising is the premier west coast fashion school, educating for careers in fashion design, fashion merchandising, graphic design, interior design, and entertainment. FIDM's graduates include renowned fashion designers like Monique Lhuillier, Emmy® and Academy Award® award-winning costume designers, top fashion industry executives, and entrepreneurs.
# # #