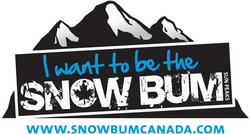 Sun Peaks, BC (Vocus) October 22, 2009
Worldwide hype continues to build around the I want to be the Snow Bum competition – a once-in-a-lifetime opportunity to win a three month stay on the slopes of Sun Peaks Resort in the British Columbia Interior.
Since its launch on October 1, 2009, close to 8,000 winter enthusiasts from more than 68 countries have visited the SnowBumCanada.com website. Snow fans from as far as Australia, Germany, Russia, New Zealand, the Netherlands, Ukraine, Sweden, France and even Brazil have all logged on to learn more about this sensational prize and to check out the ingenuity and creativity of the entries already submitted. Highlights include a blooper reel at the end of British entrant Jem's video, Ian from Ontario jumping into a freezing cold lake, and a catchy tune by long Ottawa-native Horus that will stick in your head all day long.
Social Media platforms have been key in spreading the word about this competition. On the launch day alone, 22,000 people potentially heard about the competition simply through re-tweets on Twitter.
Sun Peaks is accepting entries until November 15, 2009. The lucky Snow Bum wins an amazing prize valued at $35,000. This includes airfare, season's pass, accommodation, equipment, outerwear, food and more. In return for all the perks, the winner will keep the rest of the world up-to-date on their adventures at Sun Peaks through social media avenues such as Facebook, Twitter and the official Snow Bum blog.
Skiers and snowboarders interested in being the Snow Bum – or simply those who are curious about the energetic videos already submitted – can head to the website to find out more at snowbumcanada.com.
Videos must be submitted to http://www.snowbumcanada.com by Sunday, November 15. Sun Peaks' judges will announce 20 finalists on November 19, who will undergo an interview and written-essay assessment. The winner will be announced December 1 and begin their three month stay on January 4, 2010. Contestants must be at least 19 years or older and have an applicable visa for the duration of their stay if they are from outside Canada. For full contest rules visit http://www.snowbumcanada.com.
About Sun Peaks
Sun Peaks Resort is a four season destination resort located in the interior of British Columbia near Kamloops. Recently declared 2nd Best Ski Resort in Canada and 10th Best in North America by Conde Nast Traveller Magazine readers, Sun Peaks has three mountains that surround an intimate ski-in, ski-out village. In other seasons, Sun Peaks offers a diverse range of leisure activities including 18 holes of golf as well as numerous events and festivals. Sun Peaks Resort was the first ski resort in North America and is the only resort in Canada to receive the ISO 14001 designation recognizing the resort's environmental policies and practices. Sun Peaks can be accessed by two airport getaways – Kamloops (45 minutes) and Kelowna (2 ½ hours) and by car, only a 4 ½ hour drive separates Sun Peaks and Vancouver, BC.
Media Contacts:
Melanie Simmons
Media Relations Specialist
Tourism Sun Peaks
Direct: 250-578-5387
Sophia Cheng
Media Relations
Curve Communications
Direct: 604-684-3170 ext 104
###