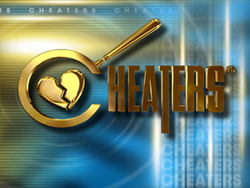 Fort Lauderdale, FL (PRWEB) October 22, 2009
WebmasterRadio.FM is pleased to announce an interview with reality TV producer/show host Joey Greco from the highly popular "Cheaters" on the show Rainmaker.
Airing in over 100 countries around the globe, "Cheaters" celebrates its 10th season as one of the longest running and most syndicated reality TV shows in the world. In the United States, "Cheaters" airs in 178 domestic markets as a one-hour show and in 169 domestic markets as a M-F 30-minute show.
"Rainmaker books guests who have somehow changed the world or the industry in which they work", says cohost Daron Babin. "Joey Greco's outrageous program has changed the formula for how reality TV is produced. By our definition, Joey is definitely a Rainmaker."
Previous guests on Rainmaker have included Captain Paul Watson (host of Animal Planet's "Whale Wars"), Craigslist founder Craig Newmark, HBO Documentary films VP John Hoffman and best-selling publishers Michael and Margaret Korda
Rainmaker airs every Thursday at 6pm Eastern Time. Listeners can tune in live at WebmasterRadio.FM or from the iTunes Radio Directory. Listeners can also listen on demand by downloading from the Rainmaker archives at WebmasterRadio.FM inside the Entertainment channel and from iTunes.
About WebmasterRadio.FM
WebmasterRadio.FM lifts the "veiled curtain" of the Internet, bringing the business community together through an interactive radio network. Its listeners are a global group, comprised of everyone from corporate executives and decision makers to small and mid-sized businesses and individual entrepreneurs. WebmasterRadio.FM's stellar line-up of radio programming includes "CoverStory" with Jiyan Wei of PRWeb, WebmasterRadio.FM's official newswire; "The Hook with Katie Kempner" with Katie Kempner, vice president of Crispin Porter + Bogusky; "SEO101 with Ross Dunn and John Carcutt; "Webcology" with Jim Hedger and Dave Davies, and more. To tune into WebmasterRadio.FM's live content or check out the show lineup, please visit http://www.WebmasterRadio.FM.
Media Contact: Brandy Shapiro-Babin 954-309-5578
# # #