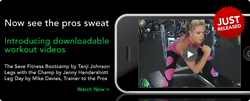 Adding MyBodyBeats Workout Videos to your fitness program is the most convenient, affordable, and effective way to achieve better results from your workout
Atlanta, GA (PRWEB) October 23, 2009
MyBodyBeats.com, a fitness website that produces and distributes high quality workout downloads for hand held portable devices from top fitness professional athletes and fitness coaches, today announced the launch of Workout Video Downloads. MyBodyBeats Workout Video Downloads are the only portable workouts of its kind which combines video demonstration with audio coaching by the athletes themselves, giving users a unique one-one-one training experience with their favorite professional fitness athletes.
"Adding MyBodyBeats Workout Videos to your fitness program is the most convenient, affordable, and effective way to achieve better results from your workout," said Nikki Canty, CEO of MyBodyBeats. "Where else can you watch your fitness idols sweating to perform the exercises, then coach you rep by rep for you to perform the moves?"
MyBodyBeats Workout Videos consist of the exact training regimes that have propelled these athletes to their peak fitness and can be customized so that people of all fitness levels from beginners to Pros can have a challenging workout. Each workout is infused with the Pros personality, secret exercises, tips, and motivation.
The Save Fitness Boot Camp by IFBB Professional Tanji Johnson, Legs with the Champ by IFBB Fitness Professional and Phat Camp creator Jenny Hendershott, and Leg Day by owner of The Fitness Factory, Mike Davies are available now at MyBodyBeats.com for only $16.99 each. MyBodyBeats Workouts Videos by Beth Horn, Venom on American Gladiators, IFBB Professional athlete Heidi Fletcher-Sullivan, IFBB rising star Erin Stern, and a pregnancy workout by IFBB Professional Carla Sanchez are scheduled for release.
MyBodyBeats Workout Videos are available for download to computer, or any MPEG-4 compatible device like mobile phones, the iPod, iPhone, or Zune and is always available online at http://www.MyBodyBeats.com.
About MyBodyBeats.com
Headquartered in Atlanta, Georgia, MyBodyBeats, LLC was founded by Nikki Canty and Cory Canty in 2006. MyBodyBeats.com[MyBodyBeats.com] is the result of over three years of effort by the founders to create, produce, and market convenient, entertaining, affordable, and most importantly, effective workouts by the very best and most recognized names in the bodybuilding and competitive fitness segments of the active health and fitness market. For more information please visit http://www.MyBodyBeats.com.
###