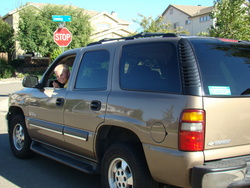 They should have a sticker on their car so you can call them and let them know when they do something wrong.
Folsom, CA (PRWEB) October 26, 2009
According to the Insurance Institute for Highway Safety, one out of every five licensed 16-year old drivers will be in a vehicle crash. Furthermore, for some seniors, the aging process is often accompanied by medical conditions that impair a person's ability to drive safely by affecting perception, judgment, or motor abilities. For these reasons, a new company called Backseat Guardian has created a life-saving driver safety program for families and neighbors.
Backseat Guardian was founded on the principle that we should all be responsible for each other. The company has essentially created a neighborhood watch system for drivers. By placing a Backseat Guardian bumper sticker on a car driven by a teen or a senior family member, loved ones who subscribe to the driving program are taking steps to help eliminate reckless driving behaviors and make the roads safer for everyone. If a vehicle with the sticker is driving in an unsafe manner, a concerned neighbor can call the toll-free phone number listed on the sticker or visit the company web site to report the incident. The family member will be alerted so they can take steps to correct the problem behavior.
The idea for Backseat Guardian came from a 10 year-old little girl. Parents Alex and Barbra Jacobs were driving through town one day when a teen driver cut them off, almost causing an accident. Their daughter Hannah said, "They should have a sticker on their car so you can call them and let them know when they do something wrong." Thus, Backseat Guardian was formed that very night.
How the Backseat Guardian Service Works:
The sticker works as a deterrent, making drivers more cognizant of driving safely.
Regardless of the method used to file the report, subscribers will receive an email that contains the details of the incident. If the report is filed via our 800 number you will receive an audio file that contains the verbal report left by the caller. This allows you to hear the report exactly as they left it. The reports are private and will be sent directly to the subscriber.
The company encourages the community to report good things as well! Wouldn't it be refreshing to receive a report about your loved ones good driving habits?
One year subscriptions start at $50 for one car. Families can save more with consecutive year and multi-car subscriptions.
Backseat Guardian Benefits:
Verbal or written reports that are delivered directly to the subscriber's email address
Ability to access reports 24 hours a day 7 days a week
Users will drive more safely, receive fewer tickets, be involved in fewer accidents, thereby reducing insurance and deductible costs
Most importantly, accidents can be averted and lives can be saved.
More information on Backseat Guardian and to learn how to subscribe, visit: http://www.backseatguardian.com
# # #