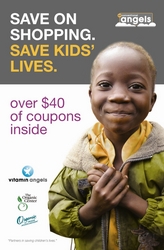 The bottom line for the Frontier family of brands is the opportunity to raise awareness about this terrific cause and at the same time, actually have a direct impact on children's lives by participating in the Unconventional Angels coupon book program
Norway, Iowa (Vocus) October 22, 2009
You don't have to run into a burning building or give someone CPR to save a life. You can simply shop – buying your favorite natural and organic products. How does that work?
The Frontier family of brands, including Aura Cacia® aromatherapy, Frontier herbs, spices, teas, and Simply Organic® spices and seasoning mixes, has just teamed up with Vitamin Angels in an unprecedented initiative called "Unconventional Angels." The program helps save the lives of malnourished children around the globe by providing important vitamins and micronutrients.
The Unconventional Angels project centers around a retail coupon book that consumers can use to save money on their favorite natural brands. Each Frontier coupon shoppers redeem will go toward supporting the work of Vitamin Angels. Unconventional Angels will distribute one million of the free coupon books to leading natural product retailers throughout the U.S. during October. The coupon books feature more than $40 in savings on natural and organic products.
As they redeem coupons and save money, consumers will be helping Vitamin Angels to achieve its goal of reaching over 10 million children this year. According to the organization, one-third of all childhood deaths are caused by malnutrition. For only 25 cents, Vitamin Angels can provide enough micronutrients to reduce a child's mortality by 23 percent. It's a simple, effective solution to a major global health problem.
Shoppers should look for the Unconventional Angels coupon book in participating stores, including Vitamin Shoppe, Whole Foods Markets, Sprouts, Henry's and Sunflower Farmers Markets, Vitamin Cottage, Better Health and Fruitful Yield, along with hundreds of independent natural and organic retailers (a complete list is available at http://www.vitaminangels.org/unconventional-angels). Vitamin Angels organized the Unconventional Angels coupon book program in partnership with the Organic Trade Association and The Organic Center.
"By participating in this coupon book, smart shoppers can feel good about saving money while helping underprivileged children around the world," says Howard Schiffer, Founder of Vitamin Angels. "This important program benefits consumers and supports the growth of natural and organic business while also supporting a life-saving effort around the world."
"The bottom line for the Frontier family of brands is the opportunity to raise awareness about this terrific cause and at the same time, actually have a direct impact on children's lives by participating in the Unconventional Angels coupon book program," states Steve Krusie, Director of Public Relations for Frontier Natural Products Co-op.
In addition to redeeming coupons, customers can provide vital support by donating at a participating retailer's checkout register, contributing online at vitaminangels.org or sending a check to Vitamin Angels, PO Box 4490, Santa Barbara, CA 93140.
About Vitamin Angels
Vitamin Angels is dedicated to reducing child mortality worldwide by advancing availability, access and use of essential micronutrients, especially Vitamin A, to newborns, infants and children under five years old. In 2009, Vitamin Angels will provide over 10 million children in more than 30 countries, including the U.S., with the vital nutrients they need as a foundation for good health. To learn more about the problem of global malnutrition, micronutrient deficiencies and Vitamin Angels' solution for change, log on to http://www.vitaminangels.org.
Frontier Natural Products Co-op™
Founded in 1976 and based in Norway, Iowa, Frontier Natural Products Co-op™ offers a full line of natural and organic products under the Frontier, Simply Organic®, Aura Cacia® and Aura Cacia Organics® brands. Products include culinary herbs, spices and baking flavors; bulk herbs and spices; and natural and organic aromatherapy products. Frontier's goal is to provide consumers with the highest-quality organic and natural products while supporting and promoting social and environmental responsibility. For more information, visit Frontier's website at http://www.frontiercoop.com.
# # #