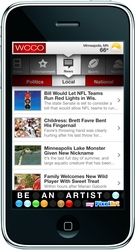 As a local media company, we need to connect with our audience where, how, and when they want information and news about the community
Minneapolis, MN (PRWEB) October 23, 2009
DoApp® Inc's Mobile Local News (MLN) Network has launched the first local user-generated content capability for locally branded television and newspapers across both the iPhone and Google Android. DoApp has also released the highly anticipated geo-targeted advertising network Adagogo™ that gives hope for new revenues for television and print news media by presenting a turnkey mobile solution that can let advertisers geo-target ads right down to within feet of a consumer.
"We are in an unprecedented change in communications and mobile is driving this faster than anything we've ever witnessed. By next year, over a hundred million people will be turning to their mobile phones for their daily news in the United States alone." said Wade Beavers, CEO of DoApp. "Just a year ago, mobile phone traffic for daily news was at about 32 million and within 12 months it shot up to over 63 million. The news experience on mobile is being revamped and what we delivered on the iPhone and Google Android is game changing. Now we are seeing news media in a hurry to get onto mobile because they don't want to be late to this phenomenon."
DoApp's MLN solution is comprised of custom, turnkey mobile news applications that reside natively on the iPhone and Google Android platforms and through a WAP solution for the Palm Pre, Blackberry, and other mobile platforms. DoApp provides the media or publisher a single place to manage their content and export out native and WAP solutions, getting the news "apps" into the appropriate app stores in less than 30 days. DoApp's new user-generated content feature turns every consumer into a citizen journalist with the ability to upload text, photos, and videos right from their phones. "Now fans can submit video from school sporting events, weather spotters can simply shoot, edit, and submit right from their phone. This is a whole new way that stations and newspapers can connect with their followers. They're now part of the news equation." said Beavers.
The Press-Enterprise in Southern California gave rave reviews to MLN on the ease of getting news content in their application.  "As a local media company, we need to connect with our audience where, how, and when they want information and news about the community," said product manager Andrew McFadden . "The opportunity in mobile is huge and any media company that is not continuously looking for ways to improve access and add features to their mobile experience is missing out on a growing market," said Kathy Weiermiller, VP of Interactive and Audience Development for PE.com and The Press-Enterprise.
DoApp unveiled MLN in April of 2009 with over 80 markets already on its mobile platform. Recently, the company launched MLN on Google Android's platform as a native application, making it the number one app distributor on the platform overnight. "With 20 new Android phones coming to market by the end of 2009, there is going to be a huge explosion on this platform and our early results have proven that," said Beavers.
The MLN platform also taps into the power of social networks with integrated single click access to share articles through text message, email, Facebook, and Twitter. With geo-targeting technologies, consumers also receive location-relative weather, traffic, and consumer deals.
DoApp's advertising platform Adagogo™ utilizes geo-targeted technology to serve ads for local advertisers right down to a specified area. Adagogo let's advertisers select a latitude and longitude radius or zip codes that specify where the advertising will run in a specific application at a specific location.
"This changes advertising in a whole new way. We have pizza delivery chains wanting to advertise directly over college campuses and coffee shops running ads over high traffic areas that route right by their business. The concept of geo-targeted advertising isn't new." said Beavers "But making it accessible and easy to implement for both large and small businesses is something we've got a good lock on." Adagogo's creation is the brainchild of former Google User Experience Designer Joe Sriver and founder of DoApp. Sriver's success at Google included products like Google AdSense, Google Print, and Google Video. DoApp has patent-pending technologies around the geo-targeted experience they deliver within Adagogo.
Adagogo offers advertisers the ability to distribute additional engagement opportunities ranging from digital coupons and text message campaigns to video ads that can be delivered from anywhere including YouTube. Adagogo technology provides enhanced viral features with digital coupons that can be saved to the phone, shared to social networks such as Facebook and Twitter, and sent to others via text messaging or email. "Engagement is everything for an advertiser and we ensure that ad placement gives the user a reason to click." said Sriver
About DoApp®, Inc.
Founded by former Google employee Joe Sriver in 2008, DoApp is a pioneer in mobile technology. DoApp creates mobile applications across the world's most popular mobile platforms for both business and consumer markets. Based out of Minnesota, DoApp's application portfolio includes two applications that made Apple's 2008 list of most popular applications. In 2009, DoApp launched the Mobile Local News (MLN) Network for the Apple iPhone, Google Android, Blackberry, Palm Pre, and other platforms, and is already the world's largest mobile solution for delivering local news content. This, combined with Adagogo, DoApp's hyper-local mobile ad network, has propelled DoApp into the forefront of mobile technology. Visit doapps.com.
###