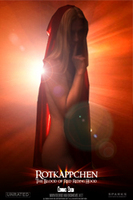 Rotkäppchen: The Blood of Red Riding Hood
Hollywood (PRWEB) October 26, 2009
Just in time for Halloween, "Rotkäppchen: The Blood of Red Riding Hood" , the chilling and erotic epic will make its DVD debut on October 27, 2009 in a Special Unrated Edition available at Amazon.com. Packed with non-stop chills, thrills and erotic romance, director Harry Sparks' visionary adult fairy tale was received with overwhelming enthusiasm and audience acclaim at its red carpet premiere at the AFI Silver Theatre and Cultural Center in September.
Starring a hot, talented young cast including Stefanie Geils, Sativa Verte, Phil Gibson, Nicole Leigh Vuono, Chris O'Brocki and Angelina Leigh, the film also features indie horror fan favorite Debbie D.
"What makes this version of Red Riding Hood unique is that it stays faithful to the themes of the original classic story," says the movie's writer/director Harry Sparks. "Red Riding Hood has always been about sexual awakening. It's about this journey of a girl becoming a woman, and I did not water it down."
With the success of movies like Twilight and the HBO series True Blood, the demand for a blend of sex, romance and the paranormal remains strong.
"There seems to be a real hunger for stories with a sexy, supernatural slant to them", says the director. "If you are a fan of True Blood, I think you will definitely enjoy this movie."
Set against the backdrop of some of the most breathtaking locations in the world, Rotkäppchen: The Blood of Red Riding Hood boasts scenery from Germany, Italy, Austria, and Switzerland and in the United States, Virginia, Pennsylvania and Maryland. For a look at the film's spectacular visuals, check out the film's trailer, posters and behind the scenes photos, at the Rotkäppchen: The Blood of Red Riding Hood Official Website.
About Sparks Entertainment:
Sparks Entertainment is an independent film company founded in 2002 by writer, director and producer Harry Sparks. With more than twenty short films to his credit, Harry Sparks formed Sparks Entertainment with the mission to become a leader in independent film in the USA and around the world.
DVD Technical Information:
Rotkappchen: The Blood of Red Riding Hood (Single-Disc Special Unrated Edition)
Street Date: October 27, 2009
Copyright: 2009 Universal Studios Home Entertainment
Running Time: 1 hour, 45 minutes
Aspect Ratio: 1.85:1
Rating: NR (Not Rated)
Sound: Dolby Surround 5.1, English
Copyright: 2009 Sparks Entertainment LLC.
###