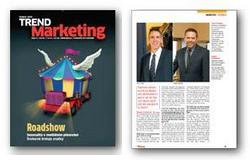 Los Angeles, Calif. (PRWEB) October 26, 2009
Earlier this year, PhaseOne Communications' Director of Analysis, Terry Villines, and Director of Business Development, Shawn Scheinoha, were interviewed by Trend Marketing--a leading business journal in Eastern Europe--profiling how PhaseOne can forecast consumer behavior using their unique, proprietary methodology that does not include using consumer surveys or focus groups. The article is currently hosted on PhaseOne's website, http://www.phaseone.net.
The article helps explain how PhaseOne's service offerings differ from traditional market research. Instead of measuring audience reaction via surveys and focus groups, PhaseOne analyzes the communication itself, breaking down the content, style, and structure against a knowledge base of 297 different factors that determine whether or not the advertisement will effectively communicate the brand's message to the consumer. Because this process focuses on the message, it gives PhaseOne the ability to assess clients' communications messages at various stages, ranging from rough concepts to already produced advertising, resulting in actionable steps to improve a brand's communications effectiveness with the target audience.
Many times throughout their 25-year long history in market research, PhaseOne has been asked by its clients to define what the difference is between the PhaseOne process and "focus groups." In the Trend Marketing article Terry explains, "Focus group respondents often react more to creative elements in the ad rather than to its central message. If marketers use focus groups as their sole assessment, they might abandon good ideas only because people in the group didn't like the ad. We, on the other hand, are able to assess the strength of the idea and find a way to revise its presentation to achieve the opposite result - so that people like the ad." This difference is where PhaseOne's value-added lies, in its ability to explain specifically why an advertisement is good or bad, and what to do about it.
While the PhaseOne methodology is based on a deeply-centered understanding of consumer behavior and the common psychological and sociological makeup of people worldwide, this knowledge base is not static; the company refines and expands the knowledge base whenever new information is learned about what makes advertisements successful. This allows PhaseOne to apply its analytical methods to all types of communications challenges, for all audiences, all over the world, with a single goal: to help our clients get it right the first time.
About PhaseOne Communications
Headquartered in Los Angeles, California, PhaseOne Communications is a specialized research consultancy serving the communications needs of clients worldwide. PhaseOne transcends the conventions of market and communications research by bringing a validated methodology that breaks with tradition to accurately forecast target audience response and understanding across all cultures. In partnership with clients through hands-on collaboration, PhaseOne expertly melds the art and science of persuasion, bringing not only academic rigor, but also artistic sensibilities to its in-depth understanding of communications and targeted messaging for maximum impact. This PhaseOne precision guided communications process enables clients to achieve their business goals by getting their communications right the first time - and every time. More information about PhaseOne Communications is available at http://www.phaseone.net.
CONTACT:
Elisabeth Davidson
PhaseOne Communications
Tel: 310-337-0100
###