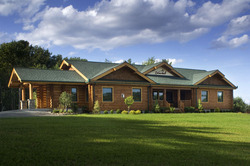 This year's award winners, like Estemerwalt Log Homes, prove that even in a slow housing market, the systems built industry is raising the bar in residential marketing and home design concepts
Honesdale, PA (PRWEB) October 26, 2009
Honesdale, PA-based log home manufacturer, Estemerwalt Log Homes, received a national home building accolade, capturing the Excellence in Home Design for the Manufacturer's Model/Sales Center and Merchandising in the 2010 Building Systems' Council's Excellence in Home Design and Marketing Awards program. The honor was awarded by the Building Systems Councils (BSC) of the National Association of Home Builders (NAHB)--a trade association that represents the concrete, log, modular, and panelized building system industries--at their annual awards program October 25th.
Sponsored by the NAHB Building Systems Councils, the BSC Excellence in Marketing and Home Design Awards has promoted excellence in the systems built housing industry for more than ten years. All winners were announced at an awards luncheon in Marco Island, Fla., held in conjunction with the BSC SHOWCASE event--the leading trade show and conference based centered on the systems built housing industry. Home manufacturers, builders and industry associates were among the groups recognized.
"This year's award winners, like Estemerwalt Log Homes, prove that even in a slow housing market, the systems built industry is raising the bar in residential marketing and home design concepts," said BSC Chairman Michael H. Weber with Lancaster Redevelopment Corp. "Our award winners are adding credibility to their businesses and shedding a positive light on the building systems industry as a whole."
The annual BSC Excellence Awards are judged by a panel of industry experts and companies like Estemerwalt Log Homes were given praise for the quality of their submittals.
"It is truly an honor to receive the BSC Excellence Award for the best Manufacturer's Model/Sales Center," said Kurt Propst, Owner of Estemerwalt Log Homes. "At Estemerwalt, we strive to provide our customers the very best in log home living; our model home represents this, and we're thrilled to receive this award - it shows the hard work and vision of Estemerwalt's dedicated employees. It is a proud day for me and for Estemerwalt."
Award winners were announced to a crowd of nearly 300 systems built industry professionals at the awards luncheon. Winners received plaques to commemorate their efforts. They will be featured in upcoming editions of NAHB's e-newspaper, Nation's Building News. Estemerwalt's project will also be on display on the BSC Awards Wall at the 2010 International Builders' Show in Las Vegas.
Estemerwalt Log Homes is a 5th generation family-owned company with over 126 years experience in the lumber industry. Estemerwalt creates one of the most comprehensive log home packages in the industry, offering a wide variety of log profiles, including D-Log, Half Log, and the ever popular Full Round Log. For more information on Estemerwalt Log Homes, please call 1.800.515.2060, or visit them online at estemerwalt.com.
Estemerwalt Log Homes Interviews or media inquiries, contact Scott Rouleau at Redstone Communications LLC (860) 677-0560
###