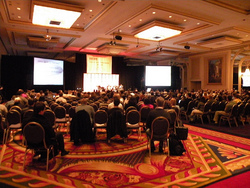 We've found there is a lot of interest in the industry among marketers who don't need to get into the nuts and bolts of SEM, but who want to get a higher level view of how these practices can benefit their marketing programs
Chicago, IL (PRWEB) October 23, 2009
Wanting to provide the latest thinking and trends in search engine marketing (SEM), including search engine optimization (SEO) and pay per click (PPC), to mainstream marketers, Search Engine Strategies (SES) Chicago has added sessions that will appeal to non-techie attendees. SES Chicago, scheduled for December 7-11, 2009 at the Chicago Hilton, will offer presentations and panels to the broader audience of traditional marketers, including small business owners and their staffs.
"We've found there is a lot of interest in the industry among marketers who don't need to get into the nuts and bolts of SEM, but who want to get a higher level view of how these practices can benefit their marketing programs," said Matt McGowan, Vice President and Publisher for Incisive Media's Interactive Marketing Group, including Search Engine Strategies, Search Engine Watch and ClickZ.com. "Especially relevant are the sessions that include information on social media trends, including one that brings together big brand and small business marketers who've experienced groundbreaking Facebook success."
SES Chicago will feature three full days of conference sessions, including three keynote presentations, solo presentations and panels. The last two days of the conference will be devoted to SEM training. Discount registration for SES Chicago is available through November 20. The agenda for the conference can be found at: http://www.searchenginestrategies.com/chicago/agenda.html
Among the social media sessions that will appeal to the traditional marketer are What's the Link Between Search and Social?, which is about how brand marketers are managing their presence across the converging channels, such as with Twitter and Facebook, and a session in the Small Business track, Small Voices, Big Impact: Social Media for the Little Guy, which is about using social media to conduct market research and organize focus groups. Another session, the PR, Social Media and Search session, will examine case studies that integrate social media and search into a PR strategy, including Dell's "Take Your Own Path" campaign.
For marketers wanting to begin international marketing and advertising campaigns, the session New Exporters: How Search Marketing Can Be Used to Build Overseas Trade covers many of the getting-started tactics, including using keyword research to identify marketing targets, how to use testing to minimize roll-out risks, and how to ensure payment.
A session that is bound to appeal to the traditional marketer in today's tough economic climate is How to Cut Your Corporate Budget Without Cutting Leads or Sales. Case studies illustrating how companies cut back on their budgets and actually increased their businesses will be presented.
For more information about SES Chicago and to register for the conference, visit: http://www.searchenginestrategies.com/chicago/registration-details.html. The advanced rate is available through November 20 for a savings of up to $200.
About SES
Incisive Media's Search Engine Strategies is a leading global conference and training series focused on search engine optimization and search engine marketing. Other Incisive resources for interactive marketers include the ClickZ.com for digital marketing news, information, commentary, advice, opinion and research and Search Engine Watch which provides news and information about search, analysis of the search engine industry and tools for improving search marketing effectiveness.
Incisive Media is a leading global provider of specialized business news and information, in print, in person and online. The company's principal markets include financial services, legal services, commercial real estate, marketing services and risk management. Incisive Media's market-leading brands include Accountancy Age, Computing, Investment Week, Legal Week, Post, Risk, and Search Engine Strategies. For more information, visit http://www.incisivemedia.com.
For additional news, updates and discussions on Search Engine Strategies events, visit us on the SES blog at: http://blog.searchenginestrategies.com/
###