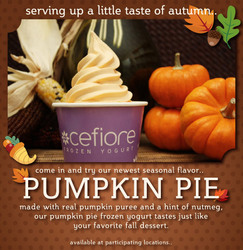 City of Industry, CA (PRWEB) October 23, 2009
Cefiore, leader in the frozen yogurt industry in Southern California and cities across the nation, announced today a new seasonal flavor, Pumpkin Pie. Cefiore is serving up a little taste of autumn to fans for a limited time at select locations.
The newest seasonal flavor is non-fat, gluten free, loaded with live active cultures and made with real pumpkin puree and a hint of nutmeg that is sure to satisfy pumpkin pie lovers. Cefiore's Pumpkin Pie tastes just like everyone's favorite fall dessert with actual spices in each cup. Recommended toppings include mixed nuts, graham crackers, yogurt chips, chocolate chips and granola.
In celebration of the new flavor, participating locations will be offering a free small cup of Pumpkin Pie on Friday, October 23, 2009 from 5pm to 7pm to its fans, Facebook fans and Twitter followers. Also, the first 10 fans to show up for the event will also receive a complimentary 100% recycled Cefiore tote bag to take home.
Certified by Live Active Frozen Yogurt Association, Cefiore's frozen yogurt is made from real dairy ingredients and live & active cultures. The benefits of live & active cultures are paramount in Cefiore's frozen yogurt. Cefiore prides itself in crafting the finest frozen yogurt with the purest ingredients found on the planet. Not only loaded with live & active cultures beneficial to digestive health, their all natural ingredients are perfect for those looking for a delightful treat that can be good for their body!
About Cefiore
Since first opening its doors in 2006, Cefiore has grown steadily throughout California and other areas of the nation. The company has built a strong following for its unique and refreshing non-fat frozen yogurt. Cefiore offers an array of flavors sure to please the palate: raspberry pomegranate, green tea, original tart, acaiberry, chocolate, golden cherry and their summer flavor, pineapple tart. Guests can top their frozen yogurt with fresh fruits or a variety of dry toppings. Cefiore also offers fruit smoothies, flavored snow ice, froyo waffles, organic teas and Seattle's Best Coffee beverages at select locations.
Cefiore has made a name for itself as one of the fastest growing frozen yogurt destinations in Southern California, with over 30 locations in the U.S. and more planned for 2010. Rapidly expanding throughout the U.S., China, Australia, Turkey and Canada, Cefiore has emerged as an industry leader. The company offers both single and multiple unit development opportunities to those who qualify.
Cefiore is a subsidiary of worldwide seafood and sushi buffet franchise, Todai. Todai SSB, Inc. develops, franchises, and licenses sushi and seafood buffet restaurants. The first Todai opened in Southern California in 1985. For more information on Todai, visit http://www.todai.com.
For Cefiore's updates, join their Facebook fan page: http://www.facebook.com/cefiorefrozenyogurt or follow their Twitter stream at: http://www.twitter.com/cefiore.
For more information about Cefiore, please visit http://www.cefiore.com or write to info(at)cefiore(dot)com
###