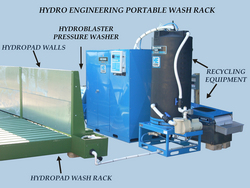 Salt Lake City, UT (Vocus) October 27, 2009
Hydro Engineering Inc has made breakthroughs in "green, environmentally friendly" water technology. Their patented technology has revolutionized the way turf equipment is washed by eliminating clogged drains and odors from the filtered recycled water, all while insuring this green technology complies with the Clean Water Act.
The turf equipment wash rack only requires electric power and water for operation, and can be placed on any surface. It does not even require a connection to a sewer. All the collected wash water is recycled through the Hydrokleen filtration system where it is then processed back to a Hydroblaster pressure washer or a garden hose sprayer. The ability to stay in compliance with the clean water act and have either a permanent or temporary wash rack adds flexibility to the Hydro Engineering Inc equipment. If you determine that the turf equipment wash rack needs to be relocated, it can be done with no construction involved. And along the way, making environmental compliance easy.
Here is how the turf equipment wash rack system works:
Equipment is driven up onto the Hydropad wash rack. The Hydropad wash racks have an impervious top that slopes to a side gutter or trough. As the wash water and debris lands on the top surface of the Hydropad, troughs guide the collected water and debris to the side gutter. There is a screen at the gutter collection point that collects most of the grass prior to filtration. It's easy to clean and solves the problem of clogged wash racks. At one end of the gutter is a pump. As the water is collected, the pump in the gutter pumps the collected water to the Hydrokleen water recycling system where solids, hydrocarbons, metals and organics are removed. The filtered water is cleaned and processed back to the Hydroblaster pressure washer where it can be used continuously during the wash process.
Equipment flexibility can be an important aspect when considering a wash rack. Brian Murray, Superintendant of Wexford Plantation Golf Course says "We are very pleased with the ease of operation of this unit. Our grounds people come in from the course, pull onto the pad, wash and put the equipment away. One of the biggest advantages of the Hydropad is that we can move it if needed. Our long range plan is to move the pad to the other side of our maintenance shop, and this system enables us to do that".
About Hydro Engineering
Hydro Engineering Inc. is now in its 29th year of operation. The business and its manufacturing facilities are located in Salt Lake City, Utah, serving a growing number of product representatives, national accounts, three United States GSA contracts and thousands of end users. The company is committed to providing the best value and most innovative products available to its customers.
###