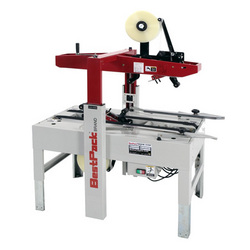 Rancho Cucamonga, CA (PRWEB) October 24, 2009
The leading expert in packaging equipment solutions BestPack.com only wants the best and most efficient packaging machines for their clients. For a limited time only, BestPack.com is offering an Inflation Buster promo for all MBD carton sealers valued at $2500. Featuring new compression rollers and a centering guide for consistent seal, BestPack,com's MBD carton sealers are capable of sealing lightweight empty cartons at a rate of 30-50 cartons a minute. For only $2500, consumers are guaranteed of a top quality product that is not only efficient but at a lower cost too. Additionally, the manufacturer of cutting-edge carton sealers is offering free BestPack tape heads for customers purchasing a BestPack carton sealer with a pallet of BestPack carton sealing tape at a savings of up to $1,168.
Furthermore, BestPack has developed a carton sealing product that provides the needed consistency and durability when sealing boxes through a tape machine. BestPack's environmentally friendly BP Carton Sealing Tape is ROHS certified and produced with a water-based adhesive. Since its introduction four years ago, BestPack's BP carton sealing tapes' broad temperature range and consistent film quality has made it popular in the food industry where temperature flexibility is crucial. BP Carton Sealing Tape has also found success in the pharmaceutical, apparel, and electronics sectors. The consistent quality and film formulation from its development in an ISO 9001 & 14001 facility have been the foundations of the BP product's success.
BestPack.com only provides top-of-the-line packaging equipment solutions such as carton sealers, case erectors and formers, tape heads, case packers and even drop loaders for its clients in the cosmetics, dry goods, food packaging, and medical packaging industry. The manufacturer of efficient carton sealers also offers other products such as conveyers, sorters, shrinkwrappers, stretch hooders, and palletizers. Additionally, BestPack.com provides installation and training to maximize productivity and efficiency. For more information on efficient packaging equipment such as carton sealers, case formers and erectors, and other packing materials, simply sign up with the company's newsletter to regularly receive updates.
AboutBestPack.Com
Based in Rancho Cucamonga, CA, BestPack is the industry's leader in packaging equipment machinery, carton sealers, carton erectors and carton sealing tapes. Also providing customized packaging solutions, BestPack is the most reliable and dependable manufacturer of all product packaging systems. Press release produced by Cybertegic.com - an Internet marketing services agency that specializes in search engine optimized press release marketing (SEO marketing).
# # #