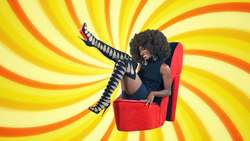 any woman (or man) who owns more than 50 pairs of shoes. If you start doubling up or buying the same pair in different colors, then you're definitely a shoeholic!
New York, N.Y. (PRWEB) October 26, 2009
Singer, Songwriter, Fashion Icon, Designer and soon-to-be author, Tinu unleashes her sophomore album, Addicted on October 27th. In true Tinu fashion, she's getting the word out with an outrageous new single, "Shoeholic," and an over-the-top music video that she describes as "a very high-fashion Sex and The City meets Confessions of a Shopaholic." The video doesn't have a leading man but it stars leading designer shoes from Christian Louboutin, Louis Vuitton, Gianmarco Lorenzi, Guiseppe Zanotti, Jimmy Choo, Miu Miu, Roberto Cavalli and Tinu Shoebag® -her shoe shaped handbag designs. The video features Tinu living it up in an assortment of outfits and designer shoes literally from her closet -- from elegant Parisian haute couture to 1960s-style bell-bottoms complete with an afro.
"Shoeholic" follows on the heels of Tinu's debut music video, "Wild Things," which was picked up by MTV Base. The video has also streamed across the U.S. on television monitors in retail, music and lifestyle stores, as well as on Yahoo Music, SpikeTV, Punk TV, Fuse on Demand, BET on Blast, Grind TV, Blastro, MuVids, RNR TV to name a few. "Shoeholic", directed by Kalechi Noel, Tinu wrote the treatment and produced the video, which follows a woman on the street, down and out resulting from forgetting to pay the rent due to her addiction to shoes. She goes from a glamorous life, high society lifestyle, shopping, being served by a butler, modeling on catwalks, dancing in elite nightclubs --to nothing but the company of her shoes. On the up-tempo track the songstress croons "I'm a shoeholic; can't help myself; spent just about everything on shoes; spent just about all I've got on boots; but turn around look at me; I'll show you how to walk in heels; can just about pay my rent this month; can just about pay my bills at all; but turn around look and see; how sexy they make me."
What is a shoeholic? According to Tinu, it's "any woman (or man) who owns more than 50 pairs of shoes. If you start doubling up or buying the same pair in different colors, then you're definitely a shoeholic!" How many pairs of shoes does Tinu own? She keeps mum about the exact number of the hundreds of designer shoes she houses in her New York City apartment. You'll have to read her upcoming book about the story behind her shoe collection to find out!
Tinu nurtures a deep love for music that provides a further outlet for her artistry. Her voice has an unabashed sensuous quality that excites, woes and seduces. Her first album, Rhythm of Love debuted on the Billboard R&B charts and captured the hearts of a broad and loyal fan base worldwide. Tinu's sonic art is her own but she readily acknowledges the influence of such great musicians as Grace Jones, Fela Kuti, and Nina Simone. Tinu is preparing to release her latest project Addicted a collage a richly woven musical tapestry that is raw in sensuality, electrifying and exuberant. It beats to a drum that is older than antiquity but newer than today, making the music a timeless collection of hits.
Addicted is an eclectic anthology of tracks, each song unique with rock, pop, funk and soul induced vibes. While many contemporary female vocalists turn to the help of ghostwriters Tinu chose to compose the lyrics on her own so listeners inherit a direct look into the singer's laid-back sense of humor and insightful worldviews. Tinu explains that the lyrics came to her without warning allowing her to express unadulterated feelings straight from the heart. She describes the warm glow of her man on the sensual track "In Love" then listeners get a glimpse into a slightly more hostile side on the track "Not the Devil," a song that urges others not to judge, written after a fraught conversation with a close family member while the eccentric single "Wild Things" encourages fans to enjoy life without drug use but sensuality. The dazzling tracks composition is a perfect balance of genuine, intoxicatingly erotic slow burners and feel-good vocal confections that are full of life.
To celebrate the release of "Shoeholic," Tinu and her record label, EliBi inc., are sponsoring a "Shoeholic" contest. They are offering fans a chance to win one of the unique Tinu Shoebag® featured in the video. Simply send in three pictures of yourself wearing your most favorite pairs of shoes out and about on the street looking fabulous, and you qualify to win one of Tinu's personally hand designed Tinu Shoebag®, which are all the rage among Hollywood elite, and which can be seen on red carpets and in fashion circles worldwide. The winners will be announced in November and will also be featured on Tinu's website, press release and social network pages. Please note: This contest is open to men and women, so don't be shy!
For more information about how to enter, and about Tinu, visit "http://www.tinuonline.com/"http://www.tinuonline.com and "http://www.facebook.com/tinuonline/"http://www.facebook.com/tinuonline
To view "Shoeholic" Music Video,
please visit: http://www.youtube.com/watch?v=sC0HFIqTmnY
###