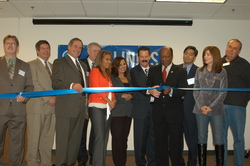 Chicago, Illinois (PRWEB) October 24, 2009
The Illinois Center for Broadcasting (ICB) in Chicago's West Suburb of Lombard, celebrated the grand opening of their new school with a ribbon-cutting ceremony today.
Over 100 distinguished guests attended including Illinois Secretary of State Jesse White, DuPage County Board Chairman Bob Schillerstrom, WLS Radio's Pat Cassidy, Senior Advisor to Governor Quinn - Billy Ocasio, Fox TV Anchor Nancy Pender and Lombard Mayor William Mueller.
Guest were given tours of the new 15,000 square foot campus with six class rooms, three student-run radio stations, 18 audio studios and two digital television studios featuring virtual reality sets. Also showcased was the Hispanic broadcasting program where students learn in Spanish.
Robert Mills President and Founder of the school cut the opening ribbon with guests. Letters were read from Gov. Pat Quinn, Senator Dick Durbin and Congressman Peter Roskam.
The event was streamed live via webcast off of the school's BeOnAir.com website.
The Illinois Center for Broadcasting provides students with hands-on training from industry professionals with on-air and behind the scenes skills in both radio and television. The ten month accredited program has financial aid for those who qualify internships at Chicagoland stations and graduate placement assistance.
A Sports Station ribbon-cutting ceremony will occur this Saturday from 12 to 2 pm October 24th. Featured guests include Pat Tomasulo (WGN), Justin Craig (ESPN), Ozzie Guillen Jr, Jarrett Payton, Hector Molina (Brewers), Matt Abbatacola (WSCR), Peter Brown (Sporting News Radio) and more. Guests will be interviews on SportsTownChicago.com Radio.
For more information on the school or to take a tour go to BeOnAir.com or call 630-916-1700.
Additional guests that attended Oct. 22nd event (permission to use substitute names granted).

Leticia Aguilera - La Ley Radio
Alex Banegas - Mega 95.5 Radio
Raphael Barreda - Illinois Hispanic Chamber of Commerce
Rebekah Brown - At Last
Pat Cassidy - WLS Radio
Dan Cronin - State Senator, 21st District
Ottman DeLeon - Aurora Hispanic Chamber of Commerce
David Diaz - Professional boxer
Rita Gonzalez - DuPage County Board District 1
Berenice Guzman - Mega 95.5 Radio
David Hulseberg - Lombard Village Manager
Arturo Jaramillo - La Ley Radio
Jan Jeffcoat - Fox 32 News TV
Tom Kapusta - TKA+ Partners, Ltd
Doug Levy - Univision Radio
Miguel Lopez - Radio Arte, La Ley
Jose Luis El Pitufo - Mega 95.5 Radio
Kevin Maci - 312 Media
Scott MaKay - The River 95.5 Radio
William Mueller - Lombard Mayor
Marcia Muller - La Ley Radio
Dave Naleway - Naleway Group
David Novarro - Fox 32 News TV
Marv Nyren - Emmis Communications
Billy Ocasio - Office of the Governor of Illinois
Nancy Pender - Fox 32 News TV
Sandra Pihos - State Representative 42nd District
Todd Rudgowski - WVON
Emily Ruffner - Clear Channel
Darlene Ruscitti - Dupage Regional Office of Education
Milly Santiago - Office of the Governor of Illinois
Robert Schillerstrom - Dupage County Board
Michelle Schultz - Downers Grove TV
Sandra Torres - Telemundo TV
Loretta Trevino - Illinois Hispanic Chamber of Commerce
Danielle Tuffano - The River 95.5 Radio
Jennifer Vera - Illinois Hispanic Chamber of Commerce
Jason Wendt - The Naleway Group
Jesse White - Secretary of State Illinois
###