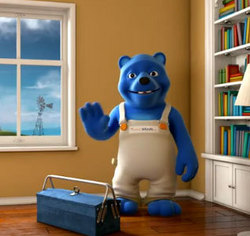 Gilbert, AZ (Vocus) October 25, 2009
Ordering blinds online is a great cost saving way to dress up the look of any room without breaking the bank. As easy as it is though, ordering blinds online can cause some apprehension. Measuring and installing blinds without professional help can be a little scary too. At Select Blinds, they have recognized this, and are using the web with sites like youtube.com to help customers realize that they are able to measure and install blinds on their own.
Select Shops, the owner of Select Blinds, has always been a forward thinking company. As a pioneering company in the field of online home décor, they are always working hard to find ways to save consumers' time and money. Gone are the days when you had to make sure you needed help between 9 and 5. With the web, everyone can access all the information they need for measuring, installation and anything else for getting blinds hung properly. And the best part is its open 24 hours a day 7 days a week, without even closing for holidays.
The video "How to measure for installing blinds ", posted by Select Blinds, is a great place to learn the steps needed for measuring. In this video Select Blinds uses a cute, yet somewhat clumsy bear named Sam, to make this sometimes daunting task much less challenging. The video visually demonstrates both the tools required and the steps to follow to get the job done.
Along with the Video on You Tube, Select Blinds also has a large collection of installation instructions on their web site, http://www.selectblinds.com. These detailed instructions cover the various types of blinds carried by Select Blinds. As shown in the video, there are differences in measuring and installing for different types of blinds, and paying attention to the directions will ensure your blinds look great. By showing the ease with which consumers can measure and install their own blinds, Select Blinds is empowering their consumers with the tools to give their blinds installation that professional look.
Including the instructions in so many places, in every box of blinds, online, on youtube.com and on the different product pages may seem a little excessive to some, but Select Blinds always wants their consumers to find the needed information with ease. So if you're thinking about installing new window blinds, but think you need to have someone come and install them for you, just go to You Tube and check out Sam the bear. If he can do it, anyone can.
About Select Shops, owner of Select Blinds
Headquartered in Gilbert, AZ, Select Shops owns the leading online destinations for ready-to-install and custom-made home fashions, including SelectBlinds.com, SelectRugs.com, SelectFans.com and SelectBedding.com. SelectBlinds.com is focused on providing a tremendous variety of blinds, shades and other windows treatments to its customers. All of Select Shops Web sites offer competitive pricing, security and convenience online shopping, live assistance, customer satisfaction guarantees and strong warranty programs on all of its products.
###