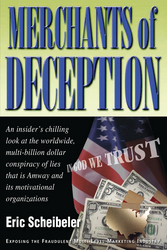 is a beacon of hope for millions of consumers weakened and desperate from the housing collapse, declining wages, shrinking income and unemployment.
Williamsport, PA (PRWEB) October 26, 2009
A class action litigation was filed against Amway Global on behalf of defendants alleging a loss in excess of $15,000. The complaint states that "The Defendants sell dreams of wealth, independence and success when in fact the overwhelming majority of distributors recruited into this dream world lose money and over half give up within one year".
Eric Scheibeler is no stranger to this industry. He was a former government auditor and high level leader in the multi level marketing industry when he himself discovered massive, systematic fraud.
He is an expert in the area of multi level marketing fraud and is the author of the book,
Merchants of Deception which exposes the industry from within.
Scheibeler has been contacted by thousands of victims defrauded in multi level marketing frauds from over 30 nations. He has been interviewed by or consulted as an expert with the UK Government, Law enforcement in India, Dateline NBC, Business Week, the FBI, the IRS, ITV and class action firms taking action on behalf of victims. He advises, "The industry of business "Opportunity Fraud" is growing at an epidemic rate. Those promoting various multi level marketing schemes fraudulently proclaim their "business" is a beacon of hope for millions of consumers weakened and desperate from the housing collapse, declining wages, shrinking income and unemployment."
Scheibeler details how the multibillion dollar fraud is spread virally, out of sight of the media, in the privacy of homes, between friends and family members. The euphoria and belief of victims are based upon high level leaders' fraudulent promise that each new investor can find wealth and security by recruiting other investors, all of whom can do the same, in a chain that will expand forever.
The author will share with your audience the following:
1. How a product based Ponzi scheme functions in near exact parallel to the Bernie Madoff Ponzi scheme.
2. The Four Red Flags to look for when approached by a friend or colleague with an "opportunity".
3. Documentation of loss rates of almost 99% for those who invest in a multi level marketing business.
4. Interviews with countless victims who have lost in excess of ten thousand dollars.
5. An educational inoculation to protect people from falling prey to these very well presented schemes.
"Mr. Scheibeler's book is a chilling portrayal of the process by which intelligent people can persist for years in pursuing the Amway dream while making no money. It is all the more significant because he earned his way to one of the highest distributor levels in the Company . . . I learned of similar experiences from ex-distributors when I interviewed them for the State of Wisconsin's Amway litigation in the early 80's. Such conditioning may explain why the tax returns (obtained for this litigation) of all active Wisconsin Direct Distributors, the company's top 1%, showed an average net income of minus $900. Why did these men and women persist . . . under these economic circumstances? Eric Scheibeler's book answers this question for those whose minds are clear enough to read its pages."

BRUCE A. CRAIG, retired Assistant Attorney General,
Wisconsin Department of Justice - Office of Consumer Protection
(This statement is my own and not that of the State of Wisconsin.)
This economy has driven recruitment into the industry of "business opportunity" schemes to new highs and unlike the Madoff debacle, those who can afford to lose the least are defrauded.
Media http://www.merchantsofdeception.com
Victim testimonials http://merchantsofdeception.com/mod/wordpress/
###