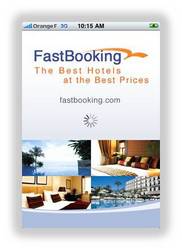 The application is designed from the users' perspective and covers the entire booking experience—from finding and selecting a hotel to concluding the reservation and arriving at the door
Paris (PRWeb UK) October 28, 2009
FastBooking, a leading provider of advanced Internet booking systems and e-marketing services for the hospitality industry, announces initial deployment of its strategy for mobile hotel booking services with the development of a native application* for the Apple iPhone. The FastBooking iPhone app can be downloaded immediately, free-of-charge from the iTunes store.
FastBooking built its first mobile booking application specifically for the iPhone to make the most of the technological and ergonomic advantages the platform offers: the intuitive interface, swiping and tapping features, and performance speed.
"The application is designed from the users' perspective and covers the entire booking experience—from finding and selecting a hotel to concluding the reservation and arriving at the door," says Jean Robberecht, Vice President of Marketing for Strategic Accounts. "Travellers are interested in information that's up to date, area specific and personally relevant. iPhone users are particularly demanding when it comes to loading speed, ease of navigation and services."
The company believes that hoteliers cannot afford to ignore the mobile phenomenon. A recent report by PhoCusWright projects mobile bookings to reach $160 million in 2010 alone. Sixty-seven percent of travellers and 77% of frequent business travellers with Web-enabled mobile devices have already used their devices to find local services (e.g. lodging) and attractions.** According to Hotel Interactive, already more than 3,400 travel related applications are available via the iTunes store.***
In addition to the speed and ease-of-use that marks a native application, the FastBooking mobile booking tool responds to user demands with a number of additional unique features:
Which hotels are closest to where I am right now? The FastBooking iPhone app uses sophisticated GPS functions to locate all nearby hotels and show them using location pins on a street map. Any location pin can be tapped to see the hotel name and address.
Let's see what the hotel looks like. Research shows that customers are more likely to make a reservation if they can see the property before booking. The FastBooking app incorporates this sophisticated technology. Users simply swipe photos to see the hotel's rooms, restaurant, lobby, spa and pool, and other amenities.
What else is in the area? Google Maps is built directly into the FastBooking mobile application. The user doesn't leave the booking process to see the street map or satellite image of the hotel's location.
Thank goodness I don't have to fill in that form. Information fields like the user's name, address, phone number and email are automatically filled in based on their iPhone address book saving tedious and repetitive keyboarding. All payment information (credit card numbers, etc) is filled in by hand and handled via a secured section of the application.
Now how do I get there? Once the user reserves the hotel, the application automatically plans the route to get him there from his current location.
Let's book another trip while we're at it! Like the FastBooking.com website, the iPhone application links users to 'the best hotels at the best prices'. Users see the most current availability, the best rates and packages on the entire FastBooking.com catalogue--more than 4,000 hotels around the world.
FastBooking will roll out its mobile strategy during 2010 with hotel booking applications for the most popular mobile platforms as well as telecom operators. "At the end of 2010, the FastBooking mobile solution will be available for 90% of the mobile platforms," says Jean Robberecht.
Demonstrations of the FastBooking iPhone application can be seen on the FastBooking booth (TT6100) during WTM 2009.
*A mobile device, such as a smartphone, has specific technical constraints including a machine language and operating system. A native application is built specifically to these parameters unlike a web application which is written for a different platform and is, therefore, a compromise for the parameters of the different platforms.
**HeBS, http://www.hotelnewsresource.com/article40769-Hospitality_eBusiness_Strategies_to_Present_at_EyeforTravel_s_Mobile_Strategies_for_Travel_USA_Conference.html
***"Mobile Mania Invades Hotel Industry" //http://www.hotelinteractive.com/article.aspx?articleid=14087
Press Contact
Deborah Gallin
+33 (0)1 44 71 88 83
About FastBooking
Since 2000, FastBooking has been the preferred partner to hotelkeepers worldwide, driving more visitors to hotel websites and converting these visitors to direct bookings. FastBooking products and services optimize a hotel's business by maximizing highly profitable direct website bookings, then rationalize inventory and pricing across all online sales channels. The company even optimizes business through legacy GDS/IDS with a cost effective service.
Headquartered in Paris with subsidiaries in Italy, USA, Asia and India, the company has 3i Group plc and E. de Rothschild as anchor investors. It employs 160 persons worldwide and has gained the trust of more than 5000 customers.
For more information, visit the FastBooking website at http://www.fastbooking.net
FastBooking is a registered trademark of FastBooking. Other trademarks and trade names may be used in this document to refer to either the entities claiming the marks and names or their products. FastBooking disclaims any proprietary interest in trademarks and trade names other than its own.
# # #