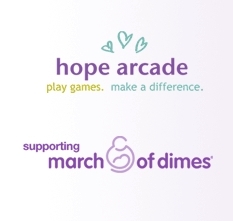 We saw a very natural synergy between the large female demographic playing on casual gaming sites and our desire to lend our talents to causes that we believe in
New York, NY (PRWEB) October 27, 2009
Play Games. Make a Difference! This simple suggestion is at the heart of an innovative approach to aiding nonprofit charities by leveraging the popularity of the ever-increasing "casual games" market. Burkley House Productions (BHP), a boutique marketing and advertising firm in Manhattan, announced today that it has released the beta version of Hope Arcade - a casual gaming site that raises funds to help the March of Dimes Foundation give every baby a healthy start in life.
"We saw a very natural synergy between the large female demographic playing on casual gaming sites and our desire to lend our talents to causes that we believe in," says Cinnamon Booth, Vice President for Business Development for Burkley House. "When Blaine Graboyes (Media Architect for BHP and Sano Agency) pitched the idea, our first thought was to take it to the March of Dimes. They are a perfect match as they are dedicated to the health of babies, a cause that mothers and families want to support."
Hope Arcade features over 1800 "free to play" and downloadable games with infrastructure support being provided by industry leader Real Networks' Real Games. Most casual gaming sites receive revenue in two ways: advertising and a percentage of the purchase price of each game downloaded. As users of these sites play, often for free, they are served ads, which create revenue for the site. 70% of the net profits from Hope Arcade will be donated to the March of Dimes mission to improve the health of babies.
"You can download games, play online, grab a coupon -- everything you do on Hope Arcade benefits babies. Please stop by, and if you like it, tell someone else about the lifesaving work supported by Hope Arcade's contributions to the March of Dimes," says Patty Goldman, vice president for Marketing of the March of Dimes.
More than 540,000 babies each year - or 1 in 8 babies -- in the United States is born too small, too soon, Ms. Goldman says. Premature birth is the leading cause of newborn death, and a major driver of health care expenses. Babies who survive often have lifelong health problems.
A "beta run" of the Hope Arcade site is now in place at Hope Arcade.com with the official "launch" being scheduled for later in the year.
Burkley House knows the attraction of casual games is undeniable. The Casual Games Market, published by the Casual Games Association, report for 2007 places the number of casual gamers at 200 million a month with a growth rate of over 20% a year. 200 million people play casual games online each month over the internet. Burkley House sees the attraction for advertisers as considerable and has already seen some interest from Fortune rated companies to see where their messaging can fit into this initiative. "We see a lot of opportunity here for advertisers that might want to align themselves with Hope Arcade's core mission of helping the March of Dimes. What's even more encouraging is that some companies are starting to see it for themselves," says BHP president, Shawn Burkley.
About the March of Dimes
The March of Dimes is the leading nonprofit organization for pregnancy and baby health. With chapters nationwide and its premier event, March for Babies®, the March of Dimes works to improve the health of babies by preventing birth defects, premature birth and infant mortality.  For the latest resources and information, visit marchofdimes.com or nacersano.org.
About Burkley House Productions
Burkley House Productions is a boutique marketing and advertising agency focused on creating imaginative properties for both large and small clients. The company is set apart by its desire to create meaningful properties in a media inundated world. BHP provides both creative and production services and was founded by the production team behind The World Series of Video Games and Game Riot. BHP is a privately held New York corporation. For more information regarding Burkley House Productions, see http://www.BurkleyHouse.com.
###