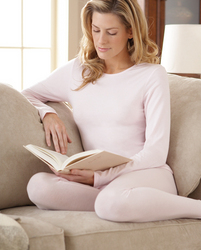 New York (PRWEB) October 28, 2009
The trick 'o treaters have barely left the doorstep before the winter decorations go up, cookie recipes are swapped and the calendar gets booked with holiday get-togethers. The holiday "To Dos" can be overwhelming - but thankfully, the gift list doesn't have to be. This year, Cuddl Duds, the nation's top-selling brand in warm underwear, has the perfect gift of "feel good" warmth for every woman on the holiday shopping list.
For The Eco-Conscious
These days, it is easy being green. Cuddl Duds new line of EcoSoft Bamboo warm underwear is the perfect way to pamper friends and loved ones, while feeling good about the sustainable benefits for the environment.
Made from organically grown bamboo (which offers natural built-in wicking and breathability), this buttery-soft, lightweight fabric provides the ultimate in comfort. Plus, bamboo fabric can be worn year round which makes it exceptionally versatile, keeping wearers warm in cool weather and cooler in warm weather. Silhouettes include decorative stitching and print trim for a stylish look and fit. Available in a scoop neck long sleeve, tank and long pant (with or without print). Colors include black, ivory, deep ocean and sesame. Suggested retail price from $23 - $28.
For The Outdoor Enthusiast
Indulge her "get up and go" sensibilities with high performance Cuddl Duds Activewear warm underwear. Designed with Cuddl Duds Comfortech "smart" fabric, this exclusive collection provides warmth, wicking, breathability and ease of motion during any winter workout. Both midweight and lightweight versions (offered in crew neck long sleeves and long pants) are available for an approximate retail price of $28 - $30.
For The Globe Trotter
Products that multi-task are the road warrior's secret: lip cream that doubles as blush, the black dress that goes from day to night. So, this season, give her something that will further simplify her complicated life: Cuddl Duds Softwear with Stretch. This supremely soft warm underwear packs easily, layers like a dream, is wrinkle-resistant and can be dressed up or down.
Softwear's temperature-regulating technology which keeps the wearer warm outdoors and comfortable indoors is perfect for the business-class regular who has to juggle the extreme temperature shifts brought on by a cross-country flight (and as close to pajamas as she will ever get on the red-eye). The Softwear with Stretch line includes mock and crew-neck long sleeve tops, tanks and long pants in ivory, black, pink frost, zebra and cheetah prints. Suggested retail price from $23 - $28.
For Everyone
Start a holiday gift-giving tradition they'll look forward to every year. Cuddl Duds Climatesmart warm underwear is the ideal go-to-present for mom, grandma, aunts, teens -- quite simply, for anyone who likes to be comfortable. Specially-designed with Sorbtek® fabric, Climatesmart provides temperature regulating benefits so wearers always feel as comfortable as possible, indoors or out. This trademark classic is available in a wide variety of silhouettes, including a v-neck tank, v-neck short and long sleeve tops, crew and mock-neck long sleeve tops and a long pant in white, black and nude colors. Suggested retail price from $23 - $28.
About Cuddl Duds
Cuddl Duds is the nation's top-selling brand of warm underwear and a leader in fabric technology, innovation and quality. Each and every garment that Cuddl Duds brings to market has been thoughtfully-designed to underscore the Cuddl Duds promise... helping consumers feel good from the inside out.
Headquartered in New York City, Cuddl Duds is a wholly owned subsidiary of Komar. Established in 1908, Komar is a privately held intimate apparel company that markets and distributes women's sleepwear, loungewear, bras and lingerie. Today Komar is a progressive company with a global sourcing network that includes factories in fourteen countries and state-of-the-art distribution facilities.
###