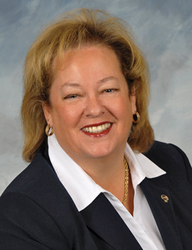 Over the years we have seen numerous networking organizations emerge that attempt to follow our business model
Mesa, AZ (Vocus) October 26, 2009
LeTip International, the premier business leads organization, announced that Kim Marie Branch-Pettid, CEO, will be presenting a seminar entitled "The Secrets of Networking," which will be open to LeTip members as well as the general public.
"This is a rare opportunity for business people throughout the Inland Empire to get inside information straight from the top of the networking ladder," said Ben Cotton, Regional Director/Inland Empire.
For more than 30 years LeTip International has proven that word-of-mouth networking is the most cost-effective form of marketing there is. LeTip was the first business leads organization to open its membership to both men and women, and in that time, has mastered the art of networking and dedicated itself to helping its members do the same.
Branch-Pettid went on to say, "This seminar is an intense 3-hour learning experience that transforms small business owners into successful networkers." The seminar agenda includes how to identify your strongest referral source, how to get and give qualified leads and how to craft an attention grabbing 30-second commercial.
"Over the years we have seen numerous networking organizations emerge that attempt to follow our business model," said Branch-Pettid. "Some have succeeded; some have failed, but none have been able to duplicate our program. Our members are known for their professionalism, dedication, and loyalty to one another, and to the LeTip Program. Their amazing testimonials attest to that fact. "
Regardless of how business professionals choose to network, Branch-Pettid applauds those who are savvy enough to belong to any networking group. "It's smart business. However, there's a critical difference between committed networking and casual networking. The proof is in the results. I tell people if it's working –great! If not—give us a call—we'll show you how it's done."
The seminar will be held at Wednesday, October 28, 2009 from 8:31am – 11:31am.
Eagle Glen Country Club
1800 Eagle Glen Parkway
Corona, CA 92883
$40 at the door
Check & Credit Cards accepted
About LeTip
LeTip International is the world's largest, privately owned, professional business leads organization. Since 1978, LeTip programs have helped over 50,000 members, throughout the United States and Canada, build business success through personal referrals.
LeTip Chapters meet weekly to exchange qualified leads, build solid business relationships, develop strong presentation skills and become proficient networkers. Only one representative of any given profession is accepted into a chapter, and members are chosen for their occupational expertise. For more information visit http://www.letip.com
###