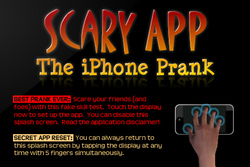 Scary App - the iPhone Prank
Hanover, Germany (PRWEB) October 26, 2009
Cyoshi Games, a division of the mobile and internet entertainment corporation Cyoshi Crucial GmbH, announced today the launch of their latest iPhone application "Scary App - the iPhone Prank" on Apple's iPhone store, perfectly timed for the upcoming Halloween.
The Halloween Scary App pretends to be a skill test which encourages the user to navigate a silver marble through a wooden maze using the device's tilt sensor. The users only needs to give it to someone they'd like to scare, and tell them they don't think they can finish all 3 levels. While their "victim" is playing, in the middle of level 3, a grotesque screaming face turns up which will scare friends and foes. -- Making people freak out on Halloween has never been funner!
Christoph Reisner, CMO of Cyoshi Games, commented: "This application is the perfect outfit for Halloween parties and gatherings and promises a hell of a lot of fun. We bundled all our expertise to create a simple and perfect game for a very special night!"
The application can be easily downloaded on Apple's AppStore. On YouTube can be found a Halloween scary teaser video.
About Cyoshi Games
Cyoshi Games is a division of the Cyoshi Media Group, which is a leading independent producer and distributor of digital entertainment. Covering the digital content value chain from concept to consumer, we serve our international clients, customers and license partners with integrated services and products. Cyoshi's latest venture, Cyoshi Games, is focusing on the development and publishing of high-quality applications for smartphones like iPhone, BlackBerry, Palm Pre, Android-based devices, etc. Due to its innovative marketing approach Cyoshi Games succeeds also in highly competitive markets.
###