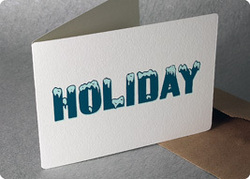 Just as the word spiffy denotes, bringing fresh, up-to-date designs to those who can't get enough letterpress is what Spiffy Press is all about
Pasadena, CA (PRWEB) October 26, 2009
Today, Spiffy Press released six new holiday card designs for letterpress fans seeking the latest look and trends. These designs build upon Spiffy Press' existing type-driven concepts with special double meanings. Each card accommodates up to a 4" x 6" picture, making it easy to create a personalized holiday photo card.
Spiffy Press' line of holiday cards is ideal for those seeking out-of-the-ordinary, non-traditional modern letterpress cards. Each playful design delights the sender and receiver alike with witty holiday concepts in lush letterpress printing. The WISHES card features flaming text to reveal a Warm Wishes greeting inside, while the bright green JOLLY holiday card doubles the message with an unexpected JOY greeting. The HOLIDAY card with snow-capped text sends a cool holiday note.
In contrast to these text-based designs, the blank modern holiday snowman card showcases an abstract snowman image on the cover, leaving plenty of room to personalize with the sender's greeting or photo inside. The snowman design inspired a stained-glass window decoration for those who are looking to coordinate their card with a gift that brightens up the room.
To help busy shoppers looking to check a to-do item off the list, free personalization is offered on orders of 10 boxes or more, when the order is placed before November 20, 2009; each box contains 10 cards. The 5" x 7" large cards are cleverly designed on the outside and eco-friendly at heart, using 100% cotton, tree-free paper and 100% recycled paper-bag envelopes. Letterpress enthusiasts can visit Spiffy Press to see the new holiday letterpress cards and sign up on the home page for a chance to win the monthly letterpress giveaway that starts next month.
"Just as the word spiffy denotes, bringing fresh, up-to-date designs to those who can't get enough letterpress is what Spiffy Press is all about," says Owner Scott Wallin. "My designs are conceptual and deliver twice the punch. The visuals you see at first glance, then the ah-ha moment when you get the concept."
In addition to clever holiday cards, letterpress fans will find a full line of all-occasion cards to choose from. Custom letterpress business stationery and letterpress wedding invitations are also available.
About Spiffy Press:
Established in 2008 with the purchase of a Vandercook 219 letterpress, Spiffy Press sprang to life and broadened Owner Scott Wallin's design capabilities. A California Institute of the Arts graduate, Scott has been art directing and designing for more than 20 years. He has developed brand strategies, created logos and business stationery, and designed brochures and websites for clients in the U.S. and Europe. His philosophy in life translates well to his graphic, typographic and letterpress designs -- "Never stop having fun!"
Scott's wedding invitations and business stationery have been published in The Power of Paper in Graphic Design (Rockport) for strong conceptual use of imagery and design, bold colors and playful die cuts; and Creative Edge, Letterhead + Business Card Design (North Light Books) for strong conceptual use of imagery and paper.
###