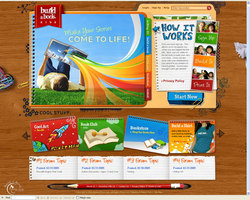 Memphis, TN (PRWEB) October 27, 2009
It is not often that written works by children or teenagers are published, but the launch of the Build-a-Book websites is changing that by providing today's youth with the pride of seeing their work in print, whether that be as a keepsake, a gift for a loved one, or even part of a larger campaign to become a recognized author. Created by a group of enthusiastic professionals including teachers and parents, Build-a-Book is both a social community and an educational portal where youths of all ages can explore their creative talent and develop their writing skills in a safe online environment.
Although Build-a-Book's signature product is its printing service, which allows youths of all ages to publish their books in hardcover or paperback form, the company goes beyond just printing and binding stories. Build-a-Book hosts a variety of tools and resources to complement its "bookmaking tool" and help its members develop their writing and story-telling skills. The website features a social networking feature that enables our youth to enlist their friends, family, neighbors, and even teachers as "fans" to provide them feedback and guidance on their works.
The site's launch comes at a time when funding for the arts within our nation's public schools are increasingly in limbo. At the same time, the growing emphasis on standardized testing has left less room for the arts in the classroom. By turning youths' internet usage into both an entertaining and educational experience, Build-a-Book aims to help fill that gap and leave children with a more enriched online experience.
Build-a-Book can also work well as a supplement to classroom learning. The intuitive interface allows educators to simultaneously use it as a teaching aid in how to use computers and safely navigate the internet while developing students' writing and story-telling skills. Build a-Books' services are also an option for teachers looking for unique and meaningful classroom projects for the holidays, whether it be the coming Christmas season, Mother's Day or Father's Day.
More information about Build-a-Book, LLC can be found by visiting
http://www.buildabookworkshops.com.
Media Contact
Tanzania Crew
Build-a-Book, LLC
http://www.buildabookworkshops.com
###