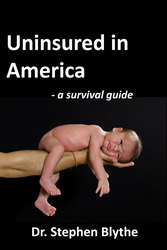 which would guarantee that no patient in the ER or hospital could be charged more than 20% above Medicare for the same services, and that all providers would need to make available to the public their cash charges for services and the Medicare fee accepted for the same service
Melbourne, FL (PRWEB) October 27, 2009
Patients without insurance pay up to ten times the insurance rate for health care, asserts Dr. Blythe in this new book. His local hospital charges $332 for an EKG for which insurance companies pay $30. A CT scan can cost an uninsured patient $3,000 at the hospital - but if they know where to go they can get the same scan for $450. A blood count, available elsewhere for $5, costs $100 if you are in the ER. Some specialists charge $420 for a new-patient consultation, whereas Medicare pays no more than $180 for the same visit - after billing costs and sometimes months of delay!
And if you don't have insurance that needed medication may cost you $160 per month, but those with insurance will pay their copayment, and their insurance company may get a $50 kickback every month that they get their prescription filled. No where else in medicine are kickbacks ethical or legal, but this is routinely done and allows the drug companies to keep their prices artificially inflated. This is hardly free enterprise!
In this informal book Dr. Blythe shares examples from his practice of how uninsured patients are ripped off by our health care system - usually without even knowing it. He shares the advice he offers his patients about how to get lower-cost services and how to negotiate fair prices. He shares tips on finding the rate that Medicare pays for medical services. He feels that since few insurance companies pay more than 20% above this, physicians, hospitals, and other providers should be more than happy to accept Medicare plus 20% in cash or by credit card. After all, for the cash patient they don't have to pay anyone to do billing and collections, there are no billing disputes later on, and they don't have to wait months for payment.
Dr. Blythe was the Democratic candidate for congress in his district in 2008. "I proposed an "Uninsured Americans Protection Act" which would guarantee that no patient in the ER or hospital could be charged more than 20% above Medicare for the same services, and that all providers would need to make available to the public their cash charges for services and the Medicare fee accepted for the same service" says Blythe. "This would at least put the uninsured on a level playing field and help prevent medical bankruptcies".
Dr. Blythe provides further information at his web site at http://www.uninsuredinamerica.org and provides some detail on video at: http://www.youtube.com/watch?v=FyyJ_Gm7LTo
Dr. Blythe says he is hopeful that his book will not be needed by anyone in a future when all Americans have health coverage.
Uninsured in America by Stephen Blythe
Outskirts Press
Denver, CO
ISBN: 978-1-4327-4379-6
Available at:
BarnesandNoble.com
Amazon.com
Contact: Dr. Stephen Blythe
Daytime: 321-725-4500 x 7539 Home: 321-723-1778
1223 Gateway Dr. Suite 1B, Melbourne FL 32903
###